Details
Last Activity:
Sep 08, 2013
Experience:
Very Experienced
Compensation:
Depends on Assignment
See Less
Friends (1614)
Lists (18)
Alkemie Jane's Gore-gasm List
4 Photos
Alkemie Jane's List Of Killer Images
78 Photos
Alkemie Jane's List Of Killer Images Part 2
57 Photos
Alkemie Jane's List Of Killer Images Part 3
54 Photos
Alkemie Jane's List Of Killer Images Part 4
30 Photos
Alkemie Jane's List Of Perfect Portraits
12 Photos
Alkemie Jane's Photographer Wish-List
111 Photos
Alkemie Jane's Photographer Wishlist Part 2
13 Photos
i <3 pretty girls!
10 Photos
images that make my heart happy
27 Photos
make-up/hair/wardrobe i love
88 Photos
My Work In Other Peoples' Ports
29 Photos
people i would take a bullet for
5 Photos
project inspiration
27 Photos
Rad People I've Worked With
13 Photos
Tattooed Love Kids
21 Photos
See Less
About Me
**You may have noticed, I have not been shooting much for some time...**
This is not because I don't want to, but because I've been at this so long it's taking an awful lot to catch my interest. As this is no longer my primary source of income, I'm back to doing it because I love art. That means I get to be picky. Please do not hesitate to contact me- I would probably love to work with you! But please don't be offended if my schedule does not permit for a "just-for-fun" shoot. Thanks!
"I went into the woods because I wanted to live deliberately. I wanted to live deep and suck out all the marrow of life... to put to rout all that was not life; and not, when I came to die, discover that I had not lived." -Henry David Thoreau
This is my attitude toward art and life. I want to create and explore, with no reservations.
MY NAME IS AJ. I LIKE TO MAKE ART.
I am a rock-n-roll girl with a soft side, a freckled riot waiting to happen.
I like leather and lace, daisies and bondage-rope, glitter, fake-blood, stripper-heels, and plain old blue jeans.
I am proud of where I've been, what I've done, and the scars I've gotten along the way.
I like portraying a character, but I prefer being myself.
I am not afraid of showing something personal in each image, whether literally by posing nude, or figuratively with something more interesting than a body.
I love traveling, and want to do more of it. I am quite available with decent notice and expenses covered.
I have rules. I'll let you know when you're getting close to one.
I'm a professional. I will show up on time, prepared, and I will work hard to create something we're both happy with.
I am interested in more genres than I can possibly list here; there's nothing more fun than stepping out of the safe little box and experiencing something new. If you offer something you don't already see in my portfolio, let's talk!
I am picky. I don't often work for trade because, quite frankly, I like having a roof over my head, and that costs money. If I say no to trade, please don't be butt-hurt about it; it's not meant to offend you, it's just business. That being said, I'll do a lot for work that really blows my mind.
I am interested in new tearsheets- magazines, ads, catalogs, fashion-shows, gallery exhibits, etc. If you're interested in my look for any of these, please don't hesitate to write!
I would love to collaborate with some killer designers and stylists. Hair, make-up, wardrobe, whatever- I'm interested. Drop me a line!
I have one tattoo- a small black ankh on my left hip, my left earlobe is pierced twice, my right earlobe is pierced three times, and I have a considerable number of small scars on my hands, arms, and legs. These are a part of me, for better or worse, and I ask that you DO NOT photoshop them out without at least talking to me about it first. I also have a pretty epic scar on my ass at the moment (fading fast, but it's there for the time being). Please feel free to edit that one out. MY HAIR IS CURRENTLY BLACK, but I change my hair frequently. Below is an updated photo.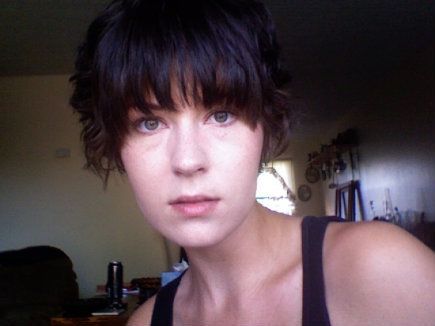 Yeah, this is me too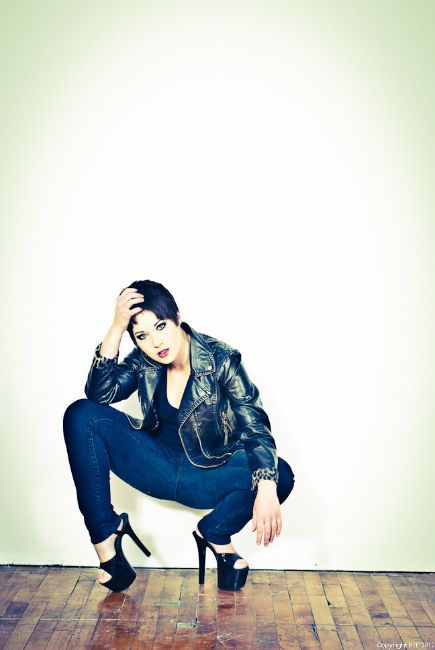 photo by Blind7
I am also a photographer: see my work under the name Janey Avalon.
I come with references. Feel free to ask if you'd like to check them.
I don't like spinach, coffee, winter, or people who talk in the theater.
I'M BACK WITH A VENGEANCE.
xoxox
AJ
WIGS- I haz them, and I love to play dress-up! These are the 4 I have right now: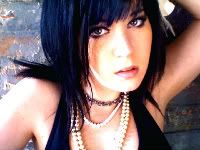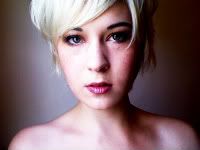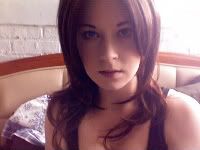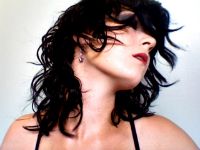 SCHEDULE
I am frankly not on here enough to keep my schedule 100% up-to-date. Please email me for current availability.
STALK ME
i respond to MM messages rather quickly most of the time, but if you're dying to find me elsewhere...
aj(at)alkemiejane.com
http://www.alkemiejane.com
http://alkemiejane.deviantart.com
http://xxlovelyxrealxx.blogspot.com
http://www.myspace.com/alkemiejane
http://www.facebook.com/pages/Alkemie-Jane/100368380022085
&&
you can follow me on twitter!
alkemiexxxjane
Verified Credits (0)
Worked with Alkemie Jane? Share your experience and become verified!
Add Credits
Credit Notes
**PUBLISHED WORK**
Finocchi Photography's senior portrait advertisements 2007
NBC 4 news on 4-11-08, for Ha!r Grandview
July 2008, Modern Salon Magazine, for Ha!r Grandview (page 74)
August 2008, Hair Gallery Magazine, for Ha!r Grandview
Leather Realm fashion show, Exotica 4
Visions Of Excess' 'Submission & Noise' Gallery Show
Detroit Dirty Show 10 (pieces by several artists)
http://www.clothesforus.com
(online catalogue)
Erotic Review Magazine, Issue 100 (Gary Mitchell)
motelfetish.com
THE BLACK TAPE SESSIONS by Boyd Hambleton (Visions Of Excess)
FOODIEPO by Eric Paul Owens (EPO)
The Provocative Arts Show (Cleveland, August '09, work by Conceptually Black)
September 2009, Sophisticate's Hairstyle Guide, for Ha!r Grandview
Detroit Dirty Show 10.5 (piece by Darker-Side Of-Midnight)
October 2009, Sophisticate's Hairstyle Guide, for Ha!r Grandview
November 2009, Sophisticate's Hairstyle Guide, for Ha!r Grandview
BellaVendetta.com (set 1- "All Tied Up" by Conceptually Black)
THE BLACK TAPE SESSIONS COLLECTION by Boyd Hambleton (Visions Of Excess)
photo featured on Kink Magazine's blog (March 18th, 2010)
Bizarre Magazine UltraVixen (see me at yourbizarre!)
GLAMIT by Eric Paul Owens (EPO)
Summer 2010, Celebrity Hairstyle Magazine's Short Hair Style Guide (page 58)
10/15/10, The Robyn Swoboda Show on Fox 8, for Loft (Ann Taylor)
American Gothique Magazine 2/11
MOTLEY MEDLEY by C. Mirene
Gary M's 'Body Of Work' Exhibit, Newport KY, March-April 2011
flyer for 'The Erotic Postcard' exhibit, Collingwood Arts Center, Toledo OH (July 8-30, 2011)
The Erotic Postcard exhibit, Collingwood Arts Center, Toledo OH (July 8-30), (pieces by Visions Of Excess and Alizarine)
cover of 'Dressage d'une Secretaire' by Alegarec (image by Chas Ray Krider)
BEAUTIES, GAS MASKS AND ROPE by Critter Zeppelin
FROM ONE TO THE OTHER by Boyd Hambleton (Visions Of Excess)
artists i've shot with... (in alphabetical order)
Air Karma
Alan Klemm *
Alizarine *
Amanda Haz A Camera
AnnaInez
A Owen Layne
Art By Amy C
ArtHommage
Art Schotz
Azure Eyes Photography *
Bella Valentina
Blind 7 Photography *
B2
Carl Chen
Chas Ray Krider *
Chris Nero *
Claudia Susana
C Mirene *
Conceptually Black *
Convent Studios *
Critter Zeppelin
Dan S
Darkangel6857
Darker-Side Of-Midnight *
David Linke
Desperate Photography
DistilledDreams *
Donablo Studios *
DVS *
E A K *
Eric Cain *
EPO *
Eye of Sicari *
FineArts Photography *
Fractured Photography *
-Freckles- *
F11 Photography *
Gary M *
Grant Sims
House of Evelyn *
IDS Photography
Iksodas
Image Analogy
Image Rooster
Jeebus Haze
JDF Photography
JMX Photography
Jose G Photography *
ksgphoto
Karen Jerzyk
Kidtee Hello *
Laura Dark *
Lazyi Photography *
Lisolette Gilcrest *
Lithium Picnic
Lore-Li Productions *
Lost Viking
Mark Frank
Michael McGowan
Michael Southwick
MidAsian * (about a million-and-a-half times)
MillLake Photography *
Nihilus
PaperMoon Productions *
Phun Fotography
Pin-Up Apocalypse
RachelLauren Photography
Reva May
Robbie Gantt
Rock Ness
Ryan Liu
Sean Michael Russell *
SingleChair
Springheel *
Steve Cottrill
Stillborn Photography
Stuart Photography
Swae
ThinkFilms
timhem
Timothy Logan
Tim Nolan *
Tom Carson
Tom Kendall
VictoriasPhoto
Visions Of Excess *
WaterWizard
Wet Ltd.
Will Brenner
NOT ON MM:
Guinevere Barber * (photography)
Finocchi Photography * (photography)
Jessica Robinson * (photography and illustration)
VJ Oz * (video)
parkfootjournal (photography)
models i've shot with...
spell *
raelyn mouse
justin pc *
psychonaut angel
byby26
sparkillz
lonely grave walker
tia *
lola *
drew
keelzey
tori
flagg
sleep to dream
PXE *
drusilla parker *
rachey-marie *
jon roberts
italian kitten
fifi-alexis
engel schrei
xxsunshinexx *
vanilla stick *
kira nova *
beesknees
illustrious rogue
shawshank
cue-ball
dollfacedeadsy
justin roehm
caitystrange
isabel allende
raechl
nikki rawrrawr
natasha fatale *
angela makeever
kat livingston
alicia alexandria *
eden eris *
smitten kitten
erin jade euphoria
panda lee
tabitha vice *
dade mchaul *
goddess angie
mizz amanda marie
maura-
red widow
saint clair
katia novikova
jolene
just ginger
stylists/designers (wardrobe, make-up, hair) i've worked with...
She Saw Red (wardrobe)
MayaMUA (henna/make-up)
Leather Realms (wardrobe)
Glitterbaby (make-up)
Tim Mauer of Mukha (make-up)
Brian Beaver of Ha!r Grandview (hair)
Rowe Boutique (wardrobe)
ClothesForUs (wardrobe)
Atelier Gothique (shineez)
GloBows (you guessed it- bows!)
Enigma Fashions (wardrobe)
(please feel free to ask me for references on any of these people!)