Details
Last Activity:
May 29, 2022
Experience:
Very Experienced
See Less
Friends (1427)
Lists (5)
Great Photographers !
13 Photos
See Less
About Me
Thanks for checking out my work and Enjoy !
Bio:
Grandson of actor/stuntman Jack Gordon and son of Emmy winner Stan Gordon, Anthony Gordon grew up on the movie lots of Hollywood.
Anthony began his career in the Los Angeles punk rock scenes of the late 70s and 80s, cutting hair and doing makeup in the patios of local night clubs and using his extensive art background to create unique looks that would herald the transition from disco to new wave.
While working at one of LA's first punk rock salons, Anthony was invited to join avant-garde designer Nicola Pelly and Harry Parness to create some of the looks for their fashion shows at the trailblazing Parachute in Beverly Hills. This was Anthony's first taste of runway fashion and he fell in love with the creativity and energy of working in a team environment.
Since then, Anthony has continued to work in fashion and advertising while bringing his unique take on pop culture and old Hollywood glamor to film and television. He has worked with such greats as David La Chapelle, Peter Arnell, and John Landis. His work can be seen on billboards from Time Square to Hollywood, and on the pages of Cosmo UK, Flaunt, Rolling Stone, Moda FG, and Angelino to name just a few.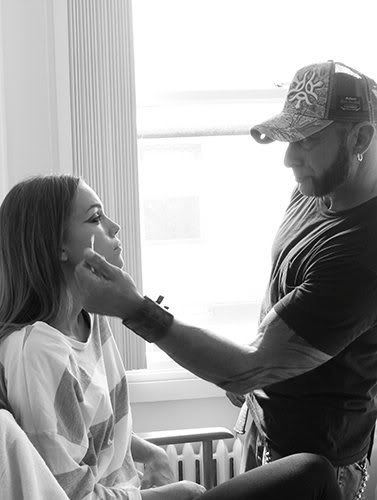 A video if me talking about pre makeup skin prep using lily b skin care
http://www.youtube.com/watch?v=zWT90I74nq0
Anthony Gordon.
(Makeup/Hair)
Member I.A.T.S.E 706
Verified Credits (0)
Worked with TheMakeupMan? Share your experience and become verified!
Add Credits
Credit Notes
Here is some of the incredible people I have had the opportunity to work with

Directors :
Martin Granger
Bill Conden
David Fincher
David Hemmings
Brett Morgan
Brian Buckley
John Landis
David La Chapelle
Frankie Flowers
Brian Billows
Javier Augustine
Terry Windell
JJ Abrams
Peter Arnell
Jame Thompson

To name a few Photographers :
David Anthony
Peter Arnell
Mellisa Manning
Paul Aresu
Michelle Laurita
Shaun Smith
Vifill
Ben Cope
Michelle Ricks
Shannon Greer
Pete Gurnz
David La Chapelle
Adam Bouska
Richard Reinsdorf
Petra and Morena
Penelope Cruz

PRINT/ADVERTISING and LOOK BOOKS

Ashworth / Summer 2007
A Common Thread /Fall 2007
Calaway Golf /Summer 2007
Prayer Haute Couture Fall/ Winter 2007
Morphine Generation/ Holiday Collection 2007
Crispin and Bassilio summer 2008
Erik Hart /Summer 2008
Erik Hart / Holiday 2008
YAZ 2008
Morphine Generation /Spring 2008
Morphine Generation /Summer 2008
Prayer Huate Couture Spring /Summer 2008
The Look Parnership Summer 2008
A common thread summer/ 2008
Morphiene Generation Fall 2008
Erik Hart fall 2008
Sanctuary FALL 2008
sANCTUIARY SPRING 09
Spaulding / jenny finch
Akiko / spring 2009
Sanctuary / summer2009
Stella Neptune summer 2009
skin.graft summer 2009
Erik Hart Fall/Holiday 2009
Morphien Generation Fall Holiday 2009
Erik Hart Factory Spring 2010
Skin Graft spring 2010
Jerelle Scott spring 2010
Setca spring 2010
Akiko spring 2010
True Religion 2010
GNC 2010
Akiko 2012 Holiday
Tovar , spring summmer 2012

EDITORIAL

Cosmo U.K.
Bullet
Moda FG
Rolling Stone
Lucky
O.K.
Fight Sport
Angeleno
Elsevier
Flaunt
Jimon
The New Cinema
Nylon
160g
WNWN
The Advocate
California Fashion Apperal news


Dept Head promos
for the CW network on

Beverly Hills 90210
The Vampire Diaries
The Buetifull life
Melrose place
Fly Girls


Television/Films
Super Nanny
The Age of Beliving (The Disney Live action Classics)
The Gay Bed and Breakfast of Terror(independant feature)
Veronica Mars (TV series)
Point Pleasant(TV series)
Get Aboard! The Band Wagon(Documentary)
Gamers(TV Series)
Worst Case senario (TV Series)
Death Dealer(short film)
Fruitcake(short Film)
Raven(TV Series)
The Presence(Feature Film)



Commercials /Videos
Best Buy
Tele flora
Miller lite
Audi
Gillette
Mc Donals
Mini Copper
Philip Morris (snus)
ESPN (feat The Brian brothers)
Alltel
Farmers insurance
LG Chocolate (Feat Cierra)
Stoli Vodka (feat Hugh Heffener)
(Biz Stone) (Julia Stiles)
Bing
Gillette
Microsoft windows 7
Huggies
AT and T ( Feat. Luke Wilson)
Kraft
Audi
The Auto Moble Club (AAA)
Pizza hut
Orbitz
A T and T
Applebee's
Sprint
Comcast
Nike (olymipics, Mr tracktown)
Spaulding
American Express (Feat Ellen, Beyonce ,The Village People )
Geico
Avodart
Crocs
Mc donalds
Game stop
Southwest Airlines
Amy Winehouse :Tears Dry on their own
Right Guard
Daddy Yankee Feat. Fergie : Impacto ) (background)
Washinton Mutual (the Bankers pen seris)
Jibbs :Smile
Activision (pigeon boys feat Tony Hawk)
Washington Mutual ( The bankers pen)
NetFlix
Bahama Ministry of Tourism (Bahamavention)
Foster Farms (Mariachis)
Wendy's
Virgin Mobile
Miller Lite ( Project X)
Skittles (sheep boys)
Skittles (blender hands)
Holiday Inn Express (rodeo)
Holiday Inn (discovery)
Burger King (Star Wars series)
Burger King (Chewbaca)
Burger King (R2d2)
Spam (family dinner)
Spam (barbecue)
Kellogg's (Scooby-doo)
Kellogg's (hockey game)
Kenco Rapport
Kellogg's Pop Tarts (Yeti)
Holiday Inn (Lincoln)
Holiday Inn (chess game)
David Lee Roth (Shoo Bop)
Holiday Inn (Van gosh)
EA Games (night rider)
Charter Communication
Lexus (Golden opportunity 1920's)
Lexus (Golden opportunity 1940s)
Lexus (Golden opportunity 1970s)
Pepsi (dance)
Pepsi (Ichiro)
Toyota (racing)
Volumen Zero (Hollywood)
Wall mart
The American Cancer Society
LG (feat Sienna )


A Few Notables ........

Ashlee Simpson, Aubrey Dollar, Balthazar Getty,Biz Stone, Cameron Richardson,
Cassey Affleck ,Dan Ackroyd,Dan Butler
David Lee Roth,Ed Begley Jr.,Eduardo Cruz, Flava Flav,Floyd Mayweather,Frank Gorshen,Gene Simmons,Grant Show,
Henry Rollins, Hugh Heffner, Kirt Russel, Jessica Lowndes,Jodie Foster ,
Jo Frost,
Kathy Ireland,Kevin Sorbo,Larry King,Lori Loughlin,
Laura San Giacomo,Lee Majors,
Leslie Ann Warren,Luke Wilson, Melani B ( Scary Spice ) Michelle Lee, Michelle Phillips, Misha Barton , Nanette Fabre,
Richard Burgi, Sally Kirkland, Susan Walters,Taraji Henson, Tony Hawk