Details
Last Activity:
Nov 02, 2017
Compensation:
Depends on Assignment
See Less
Friends (697)
About Me
"I am so Blessed and wouldn't change anything about My Life for the world. I put God First each and every day and everything else after that has fallen into place for me. The main thing I would love to accomplish in This Industry more than anything is to be Labeled as a Legend, I want My work to Inspire, I want it to be Appreciated, Respected but most importantly Remembered. I am a model who has the determination and the drive to become one of the next top models and business women of my time, and I'm about to show the world what I am made of. I just want to thank everyone that has believed in Me and supported what I'm doing. Modeling and Hosting is only My Stepping Stone to help Me get to My Real Goals in Life and without you guys at some points I really don't know where I would be if i didn't have your support. Your Comments, Your Tweets, Your Emails and Messages mean alot to Me even when I can't sit down and write to you guys individually to tell you that, I'm letting you know your words are greatly appreciated. So to My Family, Friends and Fans, better yet My Supporters, I salute you guys because you mean The World to Me. Because of all your Positivity it's easier for the Negativity to be non-existent. Thank You Guys! MuuuuuahXO! - Kelly Symone' "
FOLLOW ME ON TWITTER @_KELLY_SYMONE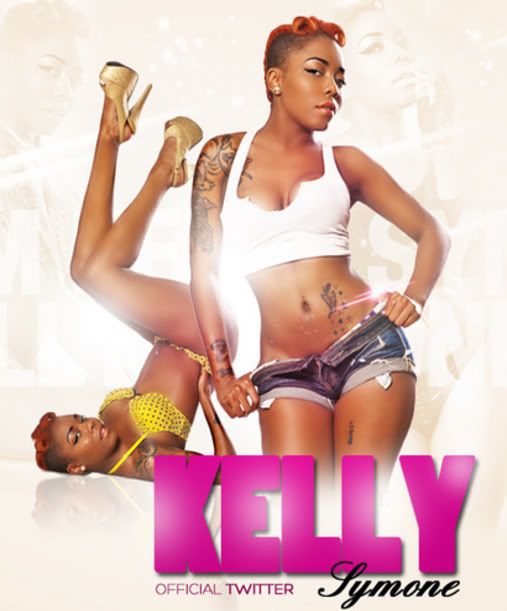 "Established Model". Established = Proof of NATIONAL Print, Video, Television, or Movie work.
[Published]
PHYSICAL DESCRIPTION
Height: 5′ 6″ | Weight: 130 lbs | Measurements: 34-25-36 | Dress Size: 2 | Shoe Size: 8.0 | Hair Color: Dark Red | Hair Length: Short | Eye Color: Drk Brown | Ethnicity: African American | Skin Color: Brown
WHO'S THAT GIRL?!
Born in Winston Salem, NC, Raised in Greensboro, NC and now residing in Atlanta, GA, Kelly Symone' has been modeling since the age of 19. She became a professional model when she took the Internet by storm in 09 and has since then achieved supermodel status. With countless print features, magazine features, fashion shows, & much more.
Kelly Symone' is the epitome of versatility. Ranging from HIGH FASHION TO GLAMOUR, there is nothing she can't do. She is breaking into various projects and is becoming the dawn of her time. Kelly is known to be highly motivated, driven, exotic and the most determined celebrity model to work inside the entertainment business.
Outside of her Modeling and Hosting, Kelly Symone' has started branching into work dealing with Music and Television Production which we hope to see on a Television near you very soon. She's preparing her new Channel "NOT YOUR AVERAGE MODEL TV" which takes you through moments in her everyday life and her journey through events dealing with her Modeling ventures, obstacles and triumphs. Kelly is also a Representative and Model for one of the Hottest Companies and Brands out today, SHAYSTAR.COM!!
CREDITS
Fashion Shows
JKARE:
House of Jkare Fashion Show
A2Z ENTERTAINMENT (DRE' BROWN):
The Movement Fashion Show (Aids Awarness)
Black Hollywood Fashion Show
! Highway Runway Fashion Show
Magazines:
Universal Salons Hair Magazine [Mary J Blidge on The Cover]
Sophisticates Black Hair Magazine
Rappers Magazine [Carolina Beauty Edition]
Truth Dvd Magazine [Front Cover]
Enfluenz Magazine
FlavaGirl Magazine [Issue 6]
Photographers:
ERIC: E. Alexander Photography
JAMES: Sparetyme Photography/ Inergee Studios
ANIL ARTIS: 1PMG
MONTINIQUE: All Occasions Photograghy
MICHAEL: Michael Neal Photography
LAWRENCE DENNING/LOUIS HATCHER/JOHN HOLLAND
IBE: Ibe Photography
Music Videos:
Xtra [Too Much] by Mr. Commercial ft. Blac Boi and Tigo B.
All My Gz by PWonda ft. Blac Boi, Ricky Ruckus and Tigo B
Be Around You by Gav Beats
Big Knots by Jsun
Bank Roll by The LACD Boiz
On Fire by Barber Q
Galaxy by Creamteam, Travis Porter and Smiley
Your Love by DejaBluu
Hosted Parties:
Capricorn Bday Bash at Club Kryptonite [Burlington, NC] with Artists LACD BOIZ and Black Mens Magazine Model Nadia Jo
I Put On For My City Wednesdays at Renaissance Night Club [Greensboro, NC] with Artist Creamteam
Armed & Dangerous: Ladies Night at Lotus Lounge [Downtown Greensboro, NC] with Miami Heat Dancer Tiffany Jackson
Pajama Jammy Jam at N Club currently known as Allure Nightlife [Downtown Greensboro, NC] with 102 JAMZ Radio Personality B Daht
NAKED the Bad Girls Club 6 Casting Call at Club Touch [Greensboro, NC] with Kendra James from Season 4 of BGC
Fathers Day Gemini Finale at Club Plush [Greensboro, NC]
The Black Carpet Affair at Extravaganza Depot [Charlotte, NC] CIAA 2011
Bricksquad Party featuring Slim Dunkin at Club Kryptonite [Burlington, NC]
"All White Everything" Party featuring CTEs' Slick Pulla at Club Kryptonite [Burlington, NC]
…and Many More
Featured Websites:
Listed as "Miss February 2012" on
http://www.HoneyAcademy.com
*** Team Shaystar Model Of The Week ***
http://shaystar.com/models/model-of-the-week-kelly-symone/
Listen to My Interview with B Rich
http://naughydownadvice.blogspot.com/2012/02/kelly-symone.html?spref=tw
"October 2010 Model Of The Month" on
http://www.talkofnc.com
"May 2011 Model Of The Week" on
http://www.enfluenzmagazine.com/mtw/
Hood Affairs On Demand:
http://hoodaffairsondemand.com/eye-candy/kelly-symone-eyecandy-sessions-pics/
Featured Model on
http://www.ThisIsTruthTv.com
Model Of The Week on
http://www.groundbreakingvideoproductions.com
Spotlight Model on
http://www.GboroExposedMag.com
Vote 5 Stars for My Profile on The Black Men's Magazine Digital Website
http://blackmendigital.com/bb/kellysymone
Kelly Symone- GGurls.com © Home of the Urban Glamour Model
http://ggurls.com/kelly-symone?.html
Kelly Symone II- GGurls.com © Home of the Urban Glamour Model
http://ggurls.com/kelly-symone-2.html
WCWE Featured Model: Kelly Symone'
http://www.wcwent.com
IsMyShhTight Featured Model:
http://ismyshhtight.com/fashion/model-kelly-symone/
Wizs Daily Dose:
http://thewizsdailydose.blogspot.com/2011/08/sexy-in-black-n-white-featuring-kelly.html
Wizs Daily Dose II:
http://wizsdailydose.com/2011/11/new-kelly-symone-courtesy-of-ibe-photography/
Model and Presenter for the 2010 North Carolina Underground Music Awards NCUMAS and I worked over the models in March 2011 for the 4th Annual NCUMAS. [I was a Truth Dvd Eyecandy Model Nominee for the 2011 NCUMAS]
Contacts:
"I am hear strickly for NETWORKING,but friends are a plus also. I am currently only doing paid assignments, but some exceptions can be made for select photographers."
If your interested in working with me, please message me on here or email iamk
[email protected]
. Thanks and I look forward to hearing from you
-Twitter:
http://www.twitter.com/_KELLY_SYMONE
[@_KELLY_SYMONE]
-Facebook:
http://www.facebook.com/TheRealKellySymone
-Fan Page:
http://www.facebook.com/pages/We-Love-K
… 3187916913
-Myspace:
http://www.myspace.com/runwaylegz
-Model Mayhem:
http://www.modelmayhem.com/runwaylegz
-Honey Academy
http://honeyacademy.com/profile/KellySymone
Please be kind enough to include the follow:
-Estimated date/time of shoot and location.
-Approx. duration of shoot
-Type of shoot (Fashion, Fitness, etc)
-MUA/hairstylist on set?
-Wardrobe provided?
-Sample of work
-Compensation
-Type of release/usage of photos.
-Number of retouched/untouched photos I will receive and when I will receive them.
Able to TRAVEL if expenses are paid (hotel and or planes) anything else i can handle. Please be conscious I am escorted to all initial photo shoots when shooting with new photographers.
Verified Credits (0)
Worked with Kelly Symone'? Share your experience and become verified!
Add Credits