Details
Last Activity:
Dec 07, 2014
Experience:
Very Experienced
Compensation:
Paid Assignments Only
See Less
Friends (3141)
Lists (22)
beautiful inspiration
5 Photos
Beauty favorites
1 Photos
Bright colors candy glitz and glitter
2 Photos
Creativity in the Hair Realm
1 Photos
Eyes the window to the soul
1 Photos
Favorite people that I actually know
2 Photos
Hair work I have done
1 Photos
Implied and I love it
2 Photos
Makeup work that I have done :)
23 Photos
Models I would like to paint
2 Photos
Models I would love to work with in the future
4 Photos
People I consider my friends
1 Photos
Pin up with style
0 Photos
Tells a story with the eyes
2 Photos
Wardrobes that I love
2 Photos
War Paint's list of killer photos
1 Photos
See Less
About Me
Rachel Dawkins
Makeup Artists/Hairstylist
(520)358-3279 cell
http://www.warpaintmua.com
If you would like to book for Makeup and or Hair services contact me at (520)358-3279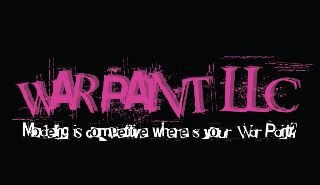 Stay updated follow, like and share:
twitter:
http://twitter.com/WarpaintMUA
Facebook:
http://www.facebook.com/WarPaintLLC
Instagram:
http://instagram.com/WarPaintMUA
pinterest:
http://www.pinterest.com/rachelthemua/
I enjoy doing creative makeup. When working with a client on their theme my goal is to be able to take that idea and bring it to life using my knowledge, skills, and research abilities.
I am always looking for new and challenging projects.
Having a background in art, modeling, and event planning I understand the importance of a creative concept and for the model to look the part from clothing to Makeup.
I was a florist so if you need anything done with flowers let me know.
I am very professional yet fun and outgoing please check my references if you would like.
If you would like to hire me for a project please contact me for my rates. I will travel and do have a passport as well.
***I will do TEST shoots***
****I do not do Trade or work for free***
Hope that you have a wonderful day filled with amazing images!!!
*****Remember sanitation is key when choosing any MUA pay attention to that. If an MUA does not have good cleaning practices then the model is at risk of infection. Photographers please this into consideration when hiring a MUA if the models are happy with the makeup artist you will get a better image and they will come back to work with you in the future*****
Verified Credits (0)
Worked with War Paint? Share your experience and become verified!
Add Credits
Credit Notes
If I have worked with you and your name is not listed please let me know. I get pretty busy and have not listed all references on this page though I would like to:)
Athletes:
Reggie Bush
Bobby Brown
William Blackmon
Cletis Gordon
Carissa Moore
Jared Bayless
The Ball Up Streetball Team:
"Professor" (Grayson Boucher of Oregon)
"Bone Collector" (Larry Williams of Los Angeles)
"Escalade" (Troy Jackson of New York)
"Mr. Afrika" (Anthony Pimble of New York)
"Sik Wit It"(Robin Kennedy of Los Angeles)
"Air Up There" (Taurian Fontenette of Houston)
"AO" (Aaron Owens of Philadelphia)
"Springs" (Jamal Nelson of Detroit)
"Pat Da Roc" (Patrick Robinson of Maryland and the Washington, DC area), "Violator" (Renaldo Johnson of Atlanta)
Special FX" (Ryan Williams of New York)
William Blackmon (Green Bay Packers #27)
http://www.packers.com/team/players/blackmon_will/
Cletis Gordon San Diego Chargers #24
http://sdg.scout.com/a.z?s=102&p=8&c=1&nid=4189289
Ad campains:
Red Bull Athlete campaign
Febreeze
BC Lottery
Pfizer
Websense
Uevolution
Trinity Financial
Quaker
Chicago Fire Soccer
Music Videos/ Bands/ Music Artists:
Marshall Thompson (Chi-Lites)
Anthony Brooks (Harold Melvin and the Blue Notes)
Billy Brown (Ray, Goodman & Brown formerly The Moments)
Sibley (photoshoot)
here is some of her work:
http://www.youtube.com/watch?v=9OCJ2gVJiNw
Andre Merritt
http://www.youtube.com/watch?v=sJX_EXmMi70&feature=related
Petah Roy
The Future
Mosart's sister
H Rock
Mission Creeps
http://www.missioncreeps.com/epk.html
Actress/ Actors:
Michelle Simmons (interviewer for TV)
Shortty Rossi
http://www.imdb.com/name/nm0744263/
Sebastian Saraceno
http://www.imdb.com/name/nm2083215/
Ashlee Brooks
http://www.imdb.com/name/nm3763365/
Samantha Lockwood
http://www.imdb.com/name/nm1626125/
Sabina Bussmann-Kelsey
http://www.imdb.com/name/nm2668594/
Everett Kelsey
http://www.imdb.com/name/nm1993648/
Almita Ordonez
Production companies:
Organic Polyester Productions
Total experience Productions
Purple Smoke entertainment
Shorty's Entertainment
Movies:
SHI
Photographers:
Joel Grimes (MM##634827)
Joelgrimes.com
George DeLoache mm#364664
Greg Alter
http://www.alteredimagesphoto.com
Barry Druxman
Victor Iorillo
Michael Barr
Linsday A. Miller
http://www.lindsayamiller.com/LindsayAMiller.html
Robert Dahey MM#153566
http://www.robertdahey.com/
Kesler
http://www.KeslerTran.com
Jeff Gleason
Kevin Van Rensselaer (MM#7628)
520 Productions
http://www.520productions.com/
S.Pierre Price (MM#9004)
Steven Barston Photography (MM#73321)
http://www.stevenbarston.com/
Marana Photography (MM#555161)
http://www.maranaphotography.com/
Barney Streit (MM#773292)
Coogan Photo (MM#518290)
Christos (MM#384967)
Don Giannatti (MM#145582)
http://www.dongiannatti.com/
Educated Savage (MM#446339)
http://www.educatedsavage.com/
Photon Mechanic (Noah) (MM# 16743)
http://noahhuber.com/
Patrick Alt (MM #101514)
http://www.patrickalt.com/
PeterSalama Photography (MM# 114549)
http://www.petersalamaphotography.com/
Hippie Infusion (MM#313303)
Sisk Photography (MM# 399115)
RavenWeiss (MM# 231775)
Isaac Martinez (MM# 592001)
Kiernan Ryan (MM# 600822)
Carlos Arturo Velarde (MM# 828)
Craig Barrington (MM# 121530)
Neil Peters Fotografie (MM# 390086)
JimiDean Images (MM# 564273)
Joe kozlowski (MM# 2722)
Nina Pak (MM# 197077)
http://www.ninapak.com/
Designers:
Dyme Wear (MM# 609657)
Models:
Jessica Mion
Stefanie Wood
Sara in Santa Monica #222739
Savannah Joy Mayhem #636365
Christina Ryan Mayhem #360055
Kaycee Kitzmiller (FORD)
Leah Luchte (FORD)
Nitch MM#367192
Petah Roy(Hip hop Artist)
The Future(Hip Hop Artist)
No ties agency models
Joy Liu MM#698944
Rochelle (no MM)
Laura Elle MM#1019469
Karly (AVEDA)
Travis Judd MM #808534
Caterina Marie
Luccia
Wisdom 1 (Charles Flanagan)
Christia Roelant MM#591981
Zandra
Leslie Marie MM#842559
Stacie Snow
Jennifer Ann
Jordann D Mahon MM#791700
Alixandra Nicole, #819992
Catee #722729
Whendy Irish MM#783699
Annabel Lee_17 MM#626063
Axis Ash MM#763272
Sharde Latasha MM#225269
Tee Tee MM#124440
(the girls from Q undercover shoot)
Britta Gabany (#745783) so beautiful and an amazing model
Sabrina (beautiful and very fun:))
Natali (naturally beautiful and poses and moves so gracefully and natural )
Silvia (Beautiful and such a nice person)
Sam (Such a great personality so much fun, beautiful and can Rock an image)
Jessica Rojos (Boxer Tucson Weekly/ Marana Photography shoot)
Luna Moon (MM#)685525
Kayla Marie Watson (MM#712961)
Brett Santiago (MM#714383)
Karma 6 (MM#714032)
Rachelle C (MM#720207)
Malia Autumn (MM#710604)
Kacie Kace (MM#707557)
Jerryd Bayless (Basketball player)
Here is a link to some info on him:
http://sports.aol.com/fanhouse/2008/04/05/jerryd-bayless-declares-for-nba-draft/
T-racy (MM#670460)
Diana Gen (MM# 355217)
Carol (not a MM member)
Malkiyyah MM# 229597
Kurt B (
http://www.shortentertainment.biz/
)
Mike M (
http://www.shortentertainment.biz/
)
Shorty Rossi (
http://www.shortentertainment.biz/
)
sebastian saraceno (MM ##520429) (
http://www.shortentertainment.biz/
)
Erika wit a K (MM#640782)
Lovely 1 (MM#666323)
Mystk (MM#590390)
RENNY KIM (MM#674155)
BanginAsian (MM #573665)
La Avery (MM #545101)
Cataclysm (MM #155349)
Samantha Janette (MM #623639)
Serenity Chaos (MM# #313888)
Brittony (MM#600072)
Candace (MM# 332881)
sasha e (MM# 503143)
Lauren Merrill (MM# 615446)
SharronSavary (MM# 642395)
Syreen (MM# 472584)
Andrelica (MM# 589525)
April Eppler ( not a MM member)
Karina (not a MM member)
B3B3 (MM# 552966)
Eve Strange (MM# 103520)
Charia Underwood (not a MM member)
Jessa Karam (not a MM member)
Virginia Teo (not a MM member)
Rachel D (my modeling portfolio)
Raine T (MM#632383)
Jessi (Not a MM member)
***Extra's***
Key artist/ stylist / Body Painter Ed Hardy fashion show at Pearl
Tucson Fashion feast Key Makeup Artist,
Head of Models, Hair, Event consultant
Wet N' Wild cosmetics Big Game Promotion Arizona
Shop Devious Boutique 10th anniversary fashion show
Febreeze commercial Ad
Q undercover Magazine
Tony and Guy Salon shoot Scottsdale fashion square
Snow Bunny Shoot Out '08
David's Bridal Bridal show
Andrelica's (MM# 589525) makeup.
Abstrax Salon & Day Spa
Mat Bevel Kinetic art museum
Bombshell Babes Fashion show (july 5th Khor Vodka Bash)
Tucson Weekly (Jassica Rojo)
Event Planners:
AZStrobists
http://flickr.com/groups/

[email protected]

/
shortentertainment (MM #662569)
(
http://www.shortentertainment.biz/
)
those that I have worked with through my events (I feel that this needs a separate section because it is a different than a shoot set up between 3 people:
Models:
Jordan B MM#446888
Danyelle Marie Smith MM#276650
Samantha Jeanette MM#623639
Andrelica MM#589525
Leahelise MM#661958
Annabel Lee_17 MM#626063
Anna Ber MM# 363602
Melissa Ochoa: Miss Mel Belle MM#701862
Renny Kim MM#674155
Leslie Cota MM#700926
Annabel Lee_17 MM #626063
Rachel Alexandra MM#716322
Luna Moon MM##685525
MUA:
Randy IL Duca MM# 545973
(Randy Rocks:) he is a great friend and MUA)
HairStylist:
Heather Gonzalez MM#441557
Amy F
Photographers:
Matthew McVay
Rafael Photography MM#546928
Neil Peters Fotographie MM#390086
Joe Koz MM#2722
JimiDean Images MM#564273
JNNPhotography MM#734234
Joel Gilgoff MM#11898
Educated Savage MM#446339:
Dennis Brownfield: Lighting Magic MM#469280
Corey Ward: BLAMphoto- Corey Ward MM#434995
Images International
Arizona Lightscapes MM #54162