Details
Last Activity:
Aug 01, 2014
Compensation:
Depends on Assignment
See Less
Friends (584)
Lists (4)
Badass Clothes and Accessories
11 Photos
Intriguing Images and Photographers
14 Photos
Psycho Baby in Other Ports
0 Photos
Sweetest Gals in AZ
1 Photos
See Less
About Me
"I truly think you are a natural and that comes across as great photos. Many girls "overpose" (if that is actually a word...). I just press the shutter, you do the work ;-)" -Detroit Conceptions

"It was really a pleasure working with you again. It's nice being able to concentrate more on composition and less posing the model. I can always tell the talented/experienced models when reviewing as each set develops into better angles and lines frame by frame." -ImpliedPhoto by Roger D

I have been modeling since I was 13, however I just couldn't resist my first tattoo the day I turned 18 3 years ago & I haven't stopped since. Now I'm a professional pin-up/alternative model with experience in fashion, runway, print, promotional work, & many other things. The difference with me, I actually ENJOY what I do. I love the creative aspect of modeling & seeing the outcome of a shoot. I'm always prepared, doing my very best, & doing even better as each day passes.

"I love your style of dark humor." -Kem Poyner

"Thank you very much,, probably some of the most fun images I've done in quite a while.. perfect for Halloween.." -ImpliedPhoto by Roger D
Verified Credits (0)
Worked with Psycho Baby? Share your experience and become verified!
Add Credits
Credit Notes
"It was great to finally meet and work with you. You're such a sweetie!" -As You Wish

"I second As You Wish - you're incredible to work with - I have incredible shots from this morning! You rock!" -Photos by Ivan
Tattoo/Alternative Magazines:
Bound By Ink issue #1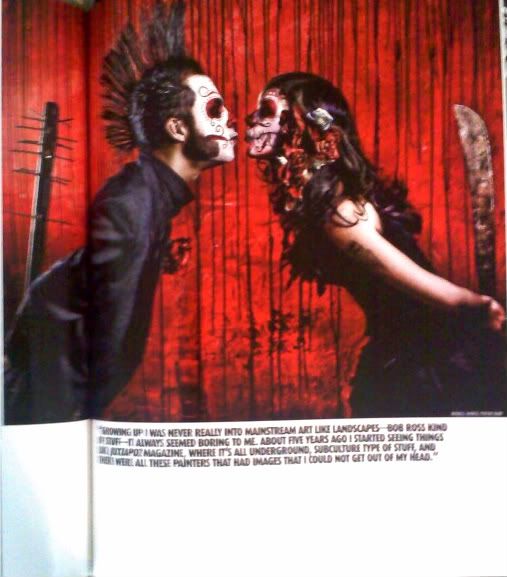 Tattoo Revue issue #148
Pin Up Perfection Magazine - Issue #10
Pin Up Perfection Magazine - Holiday Issue 2011
MamaSan Maternity Feature
"Awesome job working with you on the Leopard and Lace Fashion show!!!! Look forward to working with you in the future love!" -MiSS rukUS JAXON

"Ur a very talented Model and extremely Beautiful!! U brought it all yesterday. Keep up the great work." -ShakirStudios
Incredible clothing/accessory designers that Psycho Baby models for and promotes:
Psycho Momma ACC -
http://www.myspace.com/psychomommaacc
(MM soon to come) **********
El Vaquero Muerto - Marco - MM #838702, Website -
http://elvaqueromuerto.com/
*
Rockin' Bones Entertainment - Clothing and Videos - MM #665919, Website -
http://www.rockinbones.net/
*
Razorz Edge - Lauren - MM #838712, Website -
http://razorzedge.com/
MiSS rukUS JAXON - Candace Jaxon - MM #600385, Website -
http://www.missconstrued.com/
***
V Vintage Clothing - RJ Slade - MM #1100849 *
Jennyvi Dizon Couture Gowns - Jennyvi -
http://jennyvi.com/
*
Mamasan Maternity Clothing -
http://www.mamasanmaternity.com/
**
Fashion Shows:
*Missconstrued Leopard & Lace Tour @ the Dirty Pretty in Scottsdale. Video link:
http://vimeo.com/8466772
*Missconstrued Fashion Show in Scottsdale
*Viva Las Vegas Fashion Show 2010 in Vegas
Photographers:
Tara O. Photos - Tara O. Connor - MM #327957 **
KurthPhotography - Brianna Kurth -
http://www.myspace.com/kurthphotography
*
Varga Photography - Roy Varga - MM #127965 **
Sherrill Hot Rods Assoc - Trent Sherrill - MM #823443 *
Sterling Art - Janeen - MM #1246853 *
Carsten (DC) -
http://www.meetup.com/azphoto/members/9866352/
**
Dermot Carey -
http://www.meetup.com/members/8251161/
*
culturedwoman - Yucil Yalim - MM #1221142 *
Nine Buddhas - Chris - MM #1088581 (not recommended) *
Dijital Photography - Dave - MM #443944 *
ImpliedPhoto by Roger D - Roger D - MM #818221 **
Benjamin J - Benjamin - MM #647333 *
KKO Images - Jim Allen - MM #1348965 *
Anthony Monroe Photography -
http://www.anthonymonroe.com/
*
Kem Poyner - MM #1266249 *
Andy Hartmark Photography - Andy Hartmark - MM #474144 **
Mitsudr - Frank Wise - MM #1253571 *
Bobbysoxer Photography - RJ Slade - MM #731376 *
The Pixel Geek - Rob - MM #676159 ***
Photos by Ivan - Ivan - MM #659499 *
Mark N. -
http://www.meetup.com/Arizona-Insider-Studio/members/3819575/
*
Southwest Stereo - Tom D. - MM #875180 ***
As You Wish Photography - Brandy - MM #531521 **
Vestige Photography - Susana - MM #117895 *
Captured Concepts - Christopher Saunders- MM #1528174 *
VQ Designs - Tony - MM #762508 *
Nappsack Photos - Wayne Jung -
[email protected]
*
Creative Edge Photography - Megan Pettry - MM #679766 *
Joel Gilgoff Photography - MM #11898 *
MUA/MUAH:
Dollface MUAH Designs - Rhonda -
http://www.myspace.com/dollface81
*
MUA - Julia Venegas - MM #350023 *
Hair - Anthony Higuera - MM #1344424 *
Hollywood MUA by Jana - Jana - MM #1274766 *******
Artistry in Makeup - Laurie - MM #518589 *
Crissy Snow MUAH -
http://www.myspace.com/23141510
*
Tattoos of Psycho Baby:
Other websites you can find Psycho Baby on:
*JoystickWidow
*Twitter
*Facebook
*Rockin' Bones Entertainment
*Missconstrued
*Pin-Up Parking Lot
*Pin-Up Lifestyle