Details
Last Activity:
Apr 12, 2016
Experience:
Very Experienced
Compensation:
Paid Assignments Only
See Less
Friends (2612)
Lists (1)
Perish"s "Interesting and Effective"
6 Photos
See Less
About Me
I stopped adding credits in 2012... after awhile it gets to much to read and we'll the pictures speak for themselves.
EMAIL ME DIRECT AT
[email protected]
FASHION - ART - FETISH - SHOCK - FANTASY AND MORE.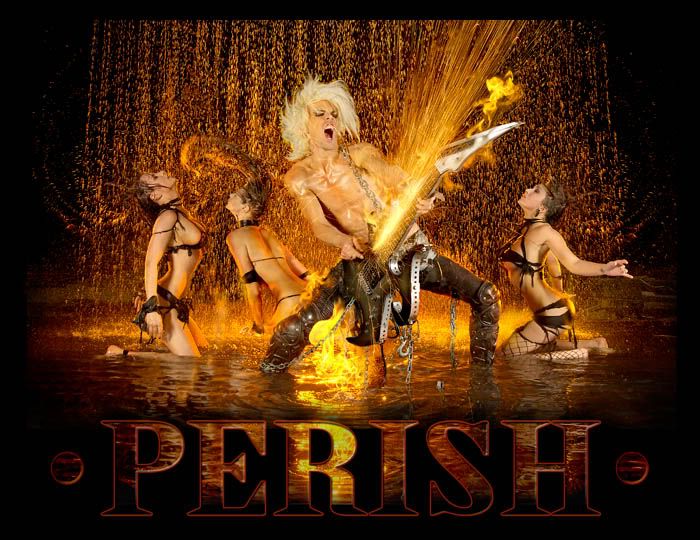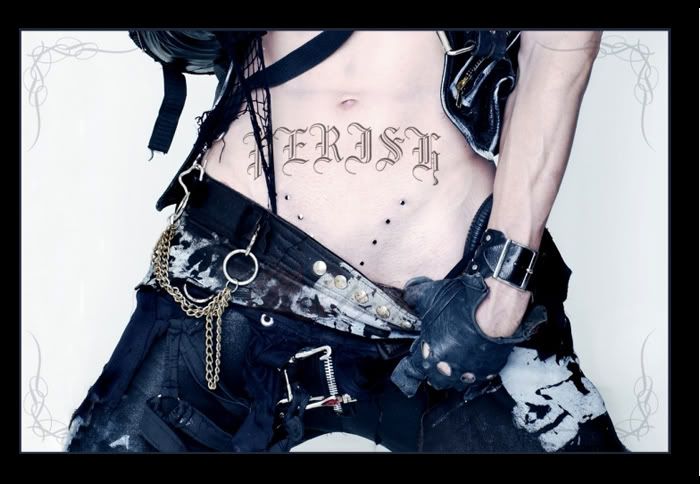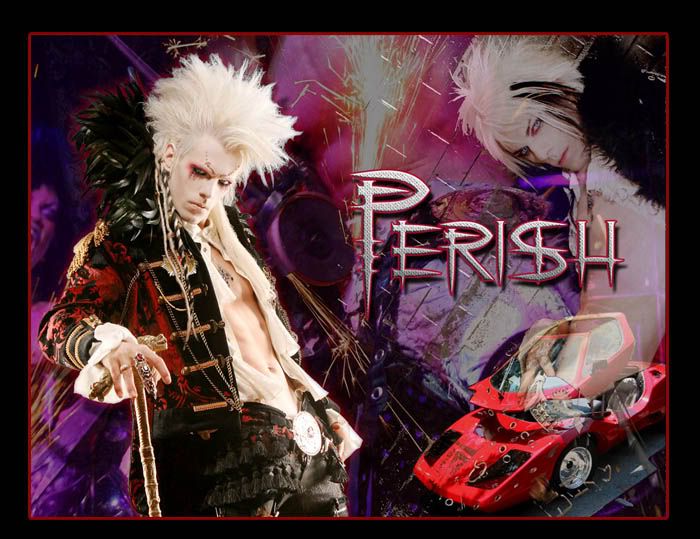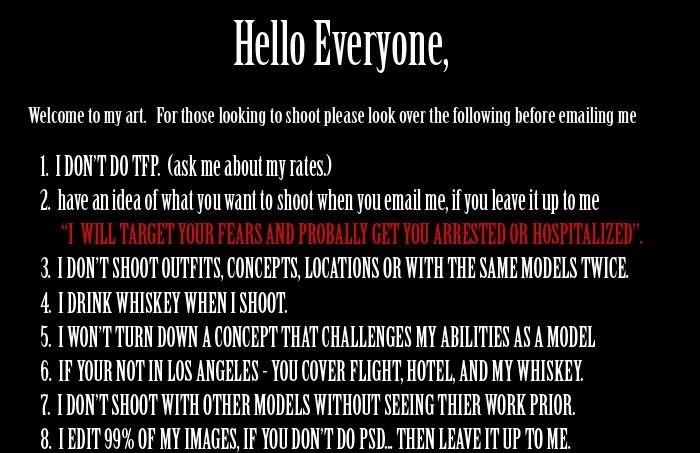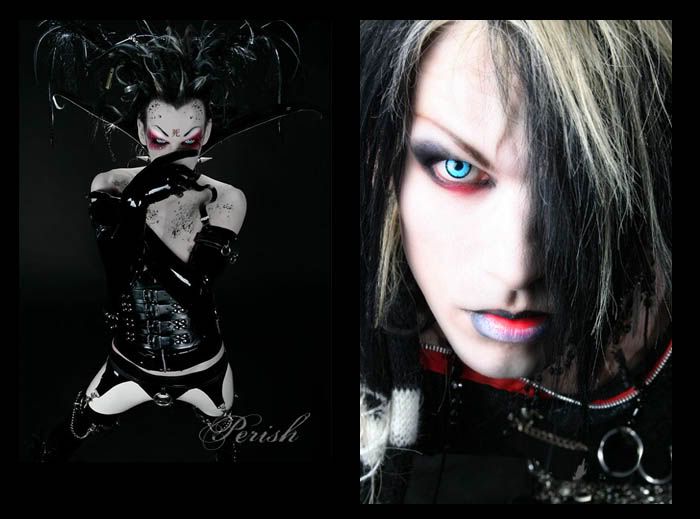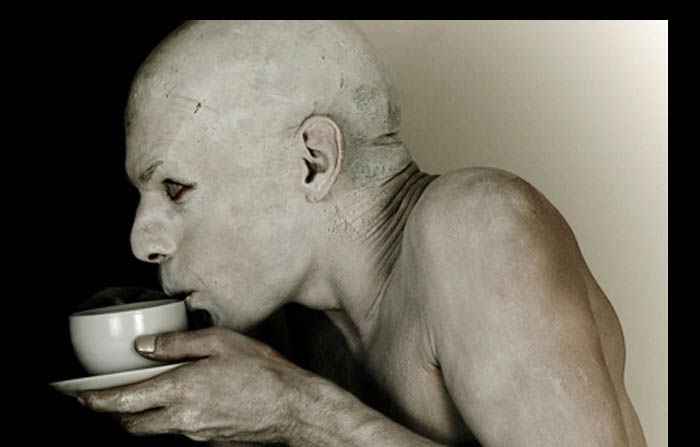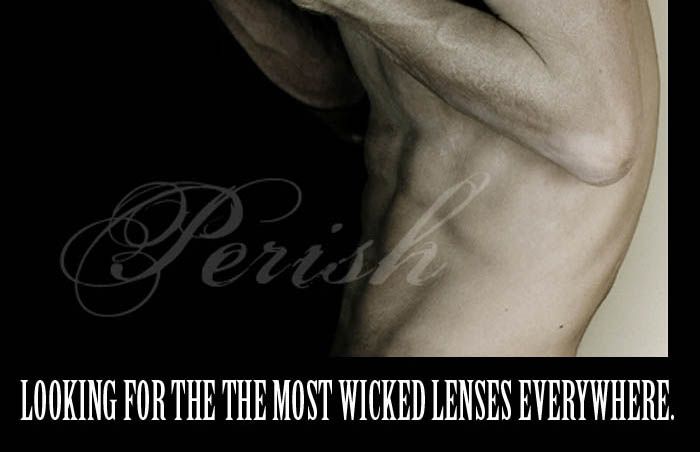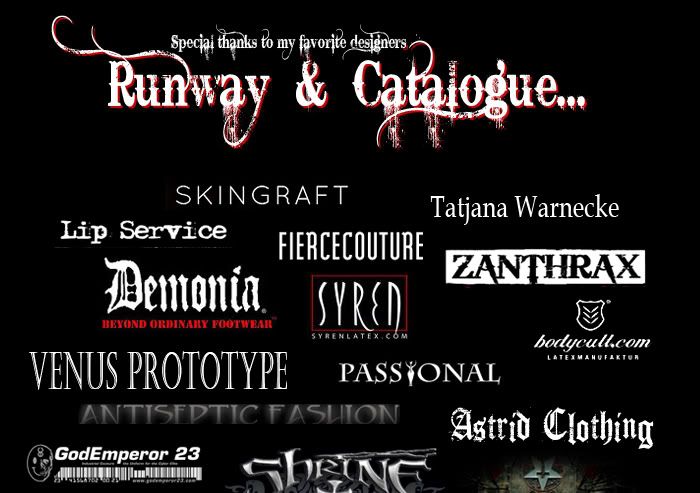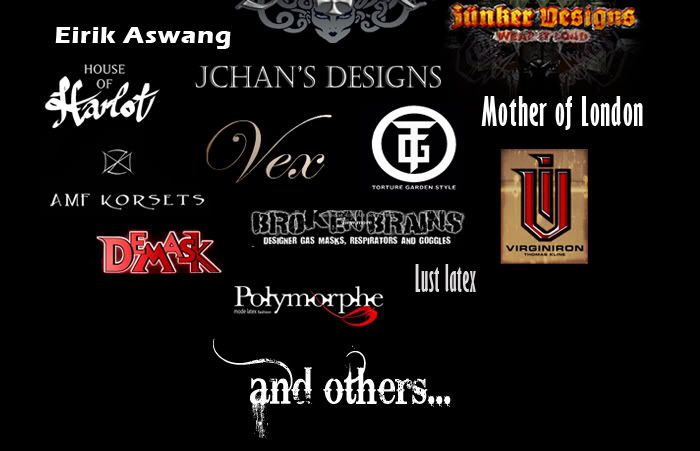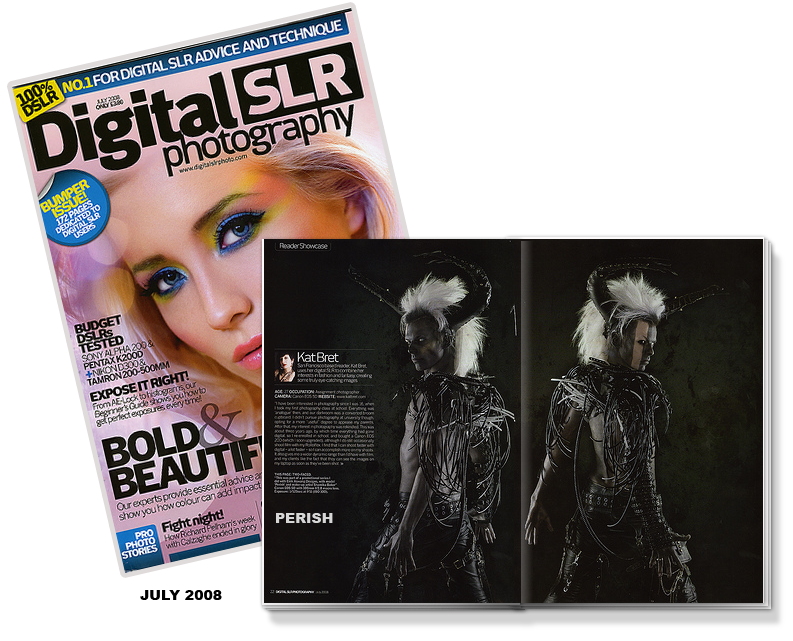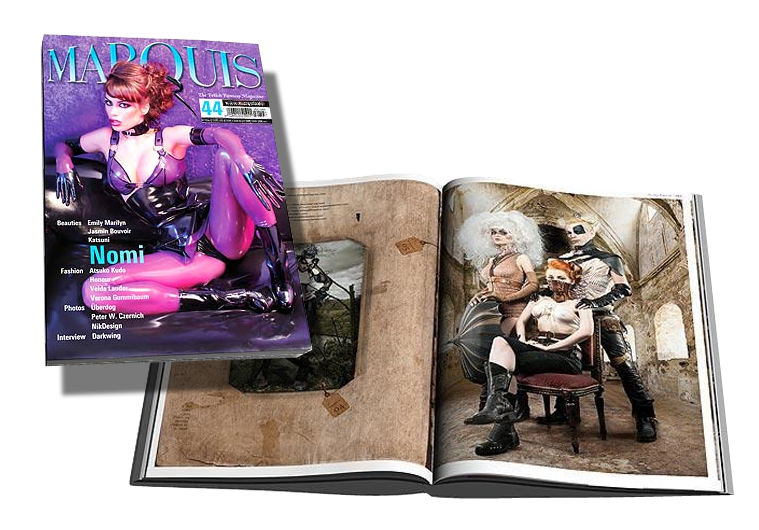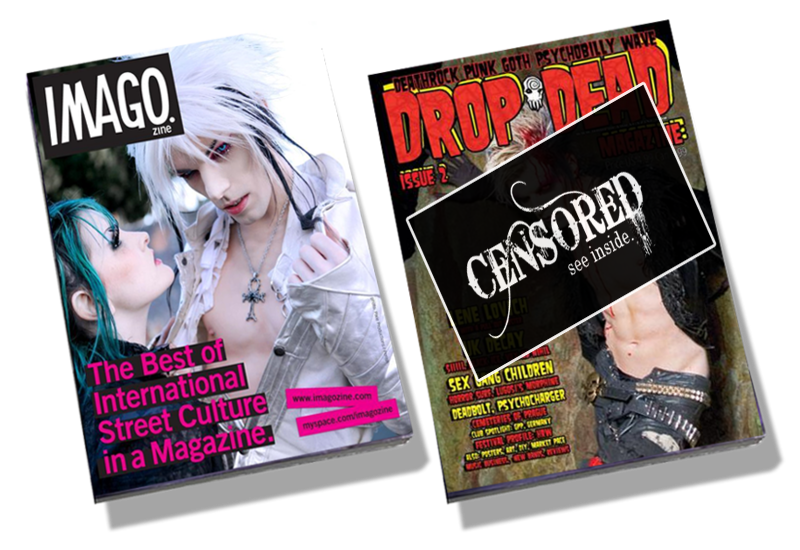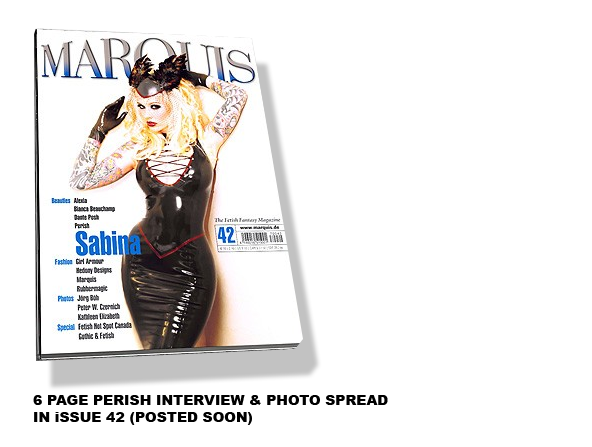 MYSPACE:
http://www.myspace.com/Perishable
Verified Credits (0)
Worked with Perish? Share your experience and become verified!
Add Credits
Credit Notes
murder, sex and carcrashes with wicked lenses everywhere.

Some of my Photographer friends I worked with:

Jeffery Scott 1019 (LA)
Lithium Picnic (Texas)
Chad Michael Ward (CA)
River Clark (NY/NJ)
Kaos Beauty Klinik (SF/CA)
Venus Wept (LA)
Dan Santoni (CA)
Viva Van Story (NJ)
Kathleen Elizabeth (NY)
Greg Passmore (CA)
Barry Underhill (CA)
~ AMF Corsets (CA)
Jonathan Sorber (PA)
Adam Chilson (LA)
Danny Luna (LA)
Seth Rutledge (NJ)
Adam Rowell (CA)
Eric Barnes (CA)
Solstyce Cale (PA)
Saun Jenkins (PA)
Evi Newman (PA)
Electroworx Studios (PA)
DarkEye Images (CA)
Julie Simone (CA)
Cyndee / 13th Hour Studios (CA)
Charly B (CA)
Kevin Stewart / Blk Eye Studios (Atlanta) .
Houston Smith (Atlanta)
J Wilkins (LA)
Ravens laughter (LA)
Lisa Drayton / Flicka (LA)
Saryn Angel (LA)
Alley Z (CA)
James Groves Photography (CA)
Jeff Cohn X-pose.net (PHL)
Jeff Beirman (PHL)
SoulTornasunder Photography (PHL)
D' Ottavio (NY)
Elizabeth Zusev (NY)
Justice Howard (CA)
Calliope's Room (ATL)
Tiny Dragon Productions (LA)
Mathew Cooke / GodsGirls (LA)
BlueBlood / Amelia & Forest (CA)
Studio 151 (CA)
Pixie (LA)
Red Photography (FL)
DarkArts - Videography (LA)
cheungli (London)
MarcusT (London)
Kat Bret Photography (SF CA)
Photos by Vance (SF, CA)
Mark Hayes (Denver)
Brand new Inc. (Denver)
Vickram (LA)
Mark Sacro (LA)
Mr. warren (FL)
Ethan (FL)
Curious Josh (LA)
Shoduko - (LA)
Apollo GT (Miami)
Poison Apples / Dastardly Dave (New Hampshire)
TurboSmoothing / (Shanghai China)



Some print/fashion projects:

DEMONIA FOOTWEAR Catalogue Cover Model 2010
SHRINE CLOTHING Catalogue Cover Model 2010
ERIK VON GUTENBURG MAGAZINE FEATURE MODEL 2010 (nov/dec)
Marquis Magazine Featured - Issue #44
Marquis Magazine Featured - Issue #43
Marquis Magazine Featured - Issue #42
Bizarre Magazine -June 07
Bizbash Jan/08 (Entertainers magazine) Article with CircX
Drop Dead Magazine Cover (Issue 2 JUST RELEASED july2006)
Buckle magazine #2 (random show images)
SkinTwo magazine (May 06)
SkinTwo magazine (October 05)
Marquis Magazine (Greg Passmore) Nr. 35
Steel Moon Fetish Magazine : cover (Kathleen Elizabeth)
Demonia Boots (poster/advert/counter stand.)
Emperor 23 Clothing
Lip Service
Passional Clothing
February 2005 SDMusicMatters - music / subculture mag.
Astrid clothing
Jessica Stoya Fashion
Eva O Print-Advert.
Shrine Clothing on Melrose / Catalog and web.
Greg Passmore's "Extreme Culture" Coffee Table book 2006.
Various Flyers / Event Hosting Materials.
White Wolf Game Cards.."Vampire the Eternal Struggle"
Chad Micheal Ward (Movie Poster "Mortem" beast figure... upcoming horror film - more info soon)
Junker Clothing (LA)
Cyberotica
Bondage Ball Event Flyers
Fetish Factory Event Flyer - (FL) Fetish party Aug 2006.
Skingraft Fashions (Skingraft.com) catalogue work.
Chad Micheal Ward ("The Eternal" Romance Novel Cover) 2007
Chad Micheal Ward ("'Gangrel'" The Blood of the Beast Game Character) 2007
Imago Magazine Canada (cover w/ melodie gore) / (Fashion Spread / Skingraft) May 2007
UTimes (Miami Weekly) Advert / Cover - NightLife Guide. 2007
DorianKane CD cover and promo package
Chad Micheal Ward / Book (Adam's Rib Image)
Insane Lenses Spokesmodel - Insanelenses.com
H magazine, LA Monthly perfomance article spread. Aug/Sept 07. "Pervy"
Gallery Limited Print: (reference Photographer for more info).
Dan Santoni / The Work of Dan Santoni (LA)
Julie Simone / Deconstructed Beauty Series (CA)
Greg Passmore / Large Interior Office Mural
Deviant Designs / Leather Clothing (promotions/web/catalogue)
Junker Fashions / Leather Clothing (promotions/web/catalogue)
face fashion fantasy (Book by Tiny Dragon productions)
Mother of London / (promotions)
J-Chans Designs (denver) Cosplay
Xanthrax Fashions / Catalogue / Feature Male Model
Brand new INC - Flower/Fashion Calendar shoot 2009 (denver)
Taboo magazine August 08 - kinkball feature model.,
Digital SLR Magazine JULY AUG 08 / featured model.
Apollo GT Magazine spread
Fangoria 09 Horror Feature Model


fashion/Runway/Performance/ and Events:

~ INTERNATIONAL FETISH SUPERSTAR PERISH
LAS VEGAS HARDROCK HOTEL AND CASINO FEATURE FETISH PERFORMER
2008, 2009, 2010

KERLI MUSIC VIDEO FEATURE (2009/2010) TEA PARTY.
ERIK VON GUTENBURG FETISH BALL HEADLINE PERFORMER 2009 / 2010
STUDIO 69 - FEATURE HOST (FETISH SUPERSTAR MC)
FOUNDER OF THE HOLLYWOODKLOWNS PERFORMANCE TROUPE
FOUNDER OF THE GRINDKORE PERFORMANCE TROUPE

PERFORMANCE "ADAM AN-TEN-NAE SAN FRANCISCO - 2010
ANNUAL MIAMI WINTER MUSIC CONFERENCE PERFORMER.
ANNUAL LOS VEGAS HARD ROCK HOTEL AND CASINO FETISH PERFORMER.
ANNUAL LOS ANGELES BONDAGE BALL FEATURED FETISH HOST.
ANNUAL LOS ANGELES KINKBALL - FETISH HOST / MC

Party Monster / Featured Stage Performer (LA)
Stoya Fashions - Runway & Print (PHL)
Vex Clothing Runway (NY Blk Blue ball 05')
Vex Clothing Runway (SKIN TWO Pre-Party Event Atlanta 05')
Harlot from Hell Runway (SKIN TWO Pre-Party Event Atlanta 05')
Astrid Clothing Runway event (LA)
Prototype by Venus New-years 2006 Clothing Runway event (LA)
AMF Korsets Performance event (LA)
Host Bondage Ball LA 2006 (LA)
11th FetishFactory Anniversary (Florida) 2006 ~
Runway for VEX LatexFashion
also Special Performance with Aprella.
Buckle Ball (Atlanta) 2006 ~
Runway for BodyCult latex fashions
Runway for Virgin Iron Fashion
Performance w/ the Beautiful Darenzia (reservoirdogs theme)
Astrid Clothing Show - Bar Sinister 2006 (LA)
Slave to Fashion (LA KINKBALL 2007) Runway for Tatjana Warnecke (Berlin).
FIRE & ICE (temptu) MakeUp Fashion Event
Performance (atmosphere "Jack Frost Character" Stage and Floor featuring work form Veritee Fashion Designs
Fetish Factory Weekend 2007 (FL)
Performance with DEMASK Latex / FashionShow
Performance with Darenzia (Pimp Character / Extreme PlayersParty)
Guest of honor (weekend events).
CircX Performance (Ring Master Stage - "don't tell mama" / performance).
CircX Performance (Bring out the men - stage performance)
Host Bondage Ball LA 2007 (LA)
"Captivity" Movie Premiere Party @ Club Priveledge. - Atmosphere Styling and Presentation 2007.
MONTREAL FETISH WEEKEND 2007
~ Fri-Night Video Interview with Bianca Beauchamp "All Access"
~ Sat-NIght / My new UV Alien Sex performace show ft. models Miss Maya & Synthetic Daisy. / & Polymorphe Royalty Fashion Show Performance.
Rashannah 07 Rave event, Hollywood Clown Troop, Stage Show.
RubberBall London 2007 (Featured)
TortueGarden London 2007 (Featured)
CircX (Sushi Samba Cosplay Performer) Miami FL 2007.
Mindless Self Indulgence
~ (Straight to Video Performance peice with CircX) Pawn Shop - Miami FL
CLUB Ibiza - Featured Host with CircX, Halloween Madhatter. 07 FL.
Fetish Factory Florida Halloween event 2007 - Guest Stylist for CircX.
Sasha & John Digweed, Featured stage performer / CircX, Montreal Canada 5000+ people (Pepsi Forum center)
Bimini Bay / Bahamas. NewYears 08 celebration / Interactive Entertainer (The Ring Master).
Los Angeles Kinkball 2008 (play space host)
Fashion by Eirik Aswang
Anteseptic Fashions Runway SF Fetish Ball 2008
Bondage Ball 2008 / Henry Fonda Theater / Featured Male Fetish Performer organized 25 Fetish Klowns in Circus Show.
Xanthrax (roxy contin) - 2008 Fashion Runway Show
Club Dream - Miami FL (Featured performer)
Performer with Jen Lasher, Pittsburg PA - 2008, unbrella prod.
Electric dDaisy Carnival 2008- Rabbit in the moon, featured stage performer.
Bondage ball LA 2008 - Featured Karnival of KINK - bondage area host.
Digital SLR Photography Magazine July 08, Kat Bret's photography.
Xanthrax fashion, Print advert - feature model.
Surom Noce - Melrose ave (rock - n - roll) clothing designer / Velvet Revolver - feature advert model.
Vile Clothing / US Spokesmodel
EGO Assassin / US Spokesmodel
Venus Prototype Fashion Show / Hell Club
Las Vegas Fetish Fantasy halloween Ball - Featured Performer
Tampa Fetish Fantasy halloween Ball- Featured Performer
Chat Noir / Dream Nightclub - Miami (Featured performer)
Featured grindolin Performance for new Smashing Pumpkins Video shoot "Glow"
Turks & Caicos Islands (New years 2009 featured performer - Nikki Beach Resort)
MTV REALITY SHOW - Holllywood Underground 2009
PERISH'S CRASH FASHION EVENT (Los Angeles)
Fangoria Horror (La Convention center) Feature performance 09
Techno Sluts @ Ultra Music Festival 09 - Feature Performer
Ultra Music Festival 2009 (Miami) Feature Stage Performer





Additional Skills:

Atmosphere Modeling / Costume and Character Display
Aerial
Stilts
makeup and styling / clothing / costume design
dancer / interactive music performances.
character developments
event plannning

Film:

ElektroWorx Music Video - Lead (Further)
Sex Zombie Retaliation - Lead (Head Sex Zombie)
The Weathered Underground - Interactive film project.
more posted soon

Special Luv and Thanks to:
MUA's and Stylists and Designers that rock!

Patrick
Linh Nguyen
Alex LaMarsh
Daniel K
VEX Latex
Emperor 23 Clothing
Astrid Clothing
Count Pam
Digital Glu
Roshar
Jen Rose
Much luv to the Gods Girls Crew
AMF Korsets
Tressa / Fierce Couture
Penny / Lust Latex fashions
Stephanie Giannovani (PHL)
Layla (NY)
Porcelynne Cosmetics (PHL)
Junker Clothing (LA)
DAX (ATL)
BodyCult
Virgin Iron
Rex (atl)
Melodie Gore
temptu
Skingraft
Mother of London
Deviant Designs
Polymorphe
Eirik Aswang