Details
Last Activity:
Mar 17, 2011
Experience:
Some Experience
Compensation:
Depends on Assignment
Hair Length:
Shoulder Length
See Less
Friends (401)
Lists (4)
Best Designs Ever
14 Photos
Honored to be in this Portfolio
49 Photos
See Less
About Me
PLEASE! Tag, Comment or Message me BEFORE friend requesting.
If you just send a request without a tag, comment or message I will probably deny you. Sorry, Im here to network not to collect as many friends.

Photos above by Joseph Wong
Mandy Apple by Mike Long
http://www.pinuppost.com/?s=Mandy+Apple
My goals are to create art, be inspired, and inspire those that I have the opportunity to work with. I'd love to work with clothing, hair accessory, and makeup companies, bands, magazines, and more.
I am always accepting paid work, and will also consider work in exchange for garments/other products. I'm currently accepting TF shoots with experienced pin-up/hot rod photographers.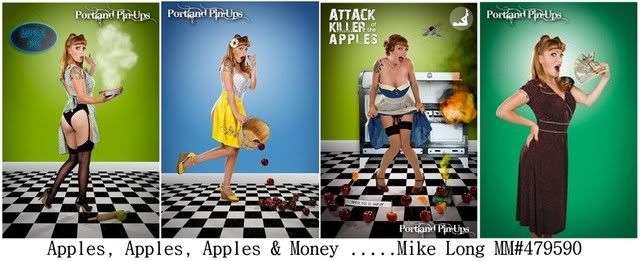 What I would like to get out of this site is a good group of local models, photographers hair & MUA's to network with. I encourage you to comment away on my pictures, I will appreciate it. How else will I learn?
Valentine Shoot MUA: Tabiba Styles MM#616627
A bit about myself...I have fallen in love for all things vintage, especially the classy and sensuous pinups and cheesecake style from the 1940s-1950s, yet my love for vintage does not limit me to just doing that style. I'm ready to have fun & to see what you can capture it in your unique style. I've been told I'm friendly and outgoing and will find myself laughing and having a great time at shoots. I am very professional and will not flake or be late without reasonable notice, I treat everyone with respect and expect the same in return
ENKO-MM#146301
Rosie Freeman-MUA, Whitney Griffin-Hair MM#705221
Lavenda MM#588178
I do love tattoo's & body piercings, so I have a few. I have a large tattoo on my right shoulder, butterfly on left lower back, a spider on left upper shoulder, turtle & flowers on right lower hip. Piercings 7 in ears, labret (lower lip) bellybutton and a nipple ring. They all can come out for photos. If you have any ideas for me please let me know,.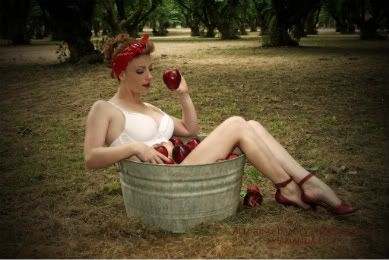 Alluring Images Photo MM#569353
I WOULD LOVE TO SHOOT:
-Hollywood Glamour / Film Noir with finger waves
-Vargas style pinups or other pinup art recreations
-Burlesque feather fan dance
-Corsetry
-Voodoo doll
-In a big martini glass
-"Pop Art" style shoot, all bright and neon colors -Dark /Horror
-Baby from House of 1000 corpses (Cowgirl hat, wavy hair, ripped up jeans mostly ripped in the back, with a bloody knife / covered in blood)
-Vintage Fashion -Fetish Ballet Boots, yet I don't have the shoes
-Standing on big shinny Apple
-Vintage Car -tons of ideas for that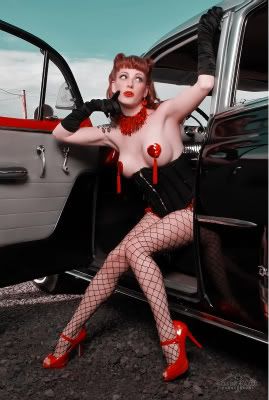 Photo By: Danger Ninja MM400365
Verified Credits (0)
Worked with Mandy Apple? Share your experience and become verified!
Add Credits
Credit Notes

Adam Photographic-Adam MM#105466
Faded Beauty Photography-Shannon MM#519030 (2X)
Bonski-Lindsay MM#167646
Danger Ninja Productions-Daniel MM#400365 (10+X)
Alluring Images Photo-Mandy Hupp MM#569353 (3X)
Leonardophoto-Bruce -MM#178591 (2X)
Jason Allen Photographic - MM#535716 (4x)
Study in Light-Pete MM#193517 (2X)
Chamberlin Photography MM#525216 (3X)
Nicholas Cooper MM#617816
Lavenda - MM#588178
Mike Long - Portland Pin ups MM#479590 (4x)
ENKO Photo MM#146301
Lance Normine MM#770495
Daniel Williams MM#2162
Scott West Photography MM#115569
Nearly Civilized MM#559174 (2x)
Mother Ghost MM#84437 (2x)
indi-is-conan MM#279289
Dianna Rae MM#97402
Jessica Watson Photo MM#744851 (3x)
Bryan Cinchon from Jacksonville Fl.
Ashlee Murr MM#97677
Douglas Scott MM#724100
Joseph Wong MM#863289
Laughing Coyote MM#849078 (3X)
Aimee Ketsdever MM#1283736
x6pix MM#1275859
Ethan Vella MM#
Hezzy - Model MM#479963 (2X)
Chrtsty Spurling - Model MM#669699 (2X)
Shawn Davis - Model MM#711889
Amber Renee MM#77539
Silverjade Makeup-Sabrina Cayne MM#334131 (2x)
Rosie Freeman -MUA & Whitney Griffin-Hair MM# is 705221
Laura Mehall - MUA MM#732079
Jesse Zelaya -Hair MM#782816
Andrea Kailyn -MUA MM#121626(2x)
Kristen Santos - Hair MM#782525
Kelly Cherry - MAU & Hair MM#535413
Amanda Crosby MM#823880
Nimai Marsden MM#1043965
*Runway Shows*
Massive IV -Crown Room 04/25/09
-RAW Lingerie
Attraction -An illababy Fashion Show 03/12/09- Lingerie Designers:
-Urban Girl NW
-Adjani Couture
-R.A.W
-Vigilantics
-Illababy
-AmyElizabeth Couture
-Angie Sarac [Custom hair accessories]
Halloween Bazaar Runway @ Memorial Col. 09/27/08
5th Anual Haunted shoot & runway show 10/18/08
-Placed 2nd in runway show out of 25 girls, made my own costume
Flake E. Clothing Fashion Show -09/03/08
-Flake E. Clothing
-Chromatic Belief - clothing
Rockin Rebelz of Fashion Show -06/22/08
-Sweetz Clothing Co. - Clothing Designer
-Billie Jo Retro - Clothing Designer
-Talia - Clothing Designer
-Ashley's Assets - Jewelry Designer
-MayaLisa - Clothing Designer
* Designers * I have Modeled for NOT on the runway-
Babygirl Boutique -Broad Minded Clothing
Atomic Bele Fashions
Raw Lingerie (3X)
Billie Jo Retro(3x)
PJ Von Bows
Untelligent Design
Sweetz Clothing
Donestic Minx Origonals
* WEBSITES *
Portlandpinups.com- Contract Girl -Mike specializes in Pin-up portraits
http://www.katchlight.com/blog/category/pin-up
getdesignhouse.com/blog/ -a two-day workshop focusing on Pin-up and Fashion/Glamour work.
cherryreddfashions.com/salem_cherry_redd_linkage.php -A store for all your Rockabilly needs
http://www.myspace.cn/cherry_club
- Valentine Girl & featured girl in Feb. 2009
Babygirlboutique.com- Modeled new line called Broadminded Clothing
Billiejoretro.com- Modeled pencil skirts, jumpsuit & halter top
Pinuppost.com- Thank you Mike of Protland Pin-Ups
myspace.com/babygirlboutique
myspace.com/pj_von_bows - Created the Mandy Apple Bow for me
- Hair Bows & accessories
myspace.com/domesticminxoriginals - Jewlery & hair accessories
myspace.com/billiejoretro - Clothing for the Rockabilly girl
myspace.com/onekindcouture - modeled 3 dresses
myspace.com/untelligentdesign - T Shirts
http://tommykabat.com/section/64789_mandy_apple.html
- great local photog
Chamberlin Photography
Babe of the day Dec. 10th!
http://champrocks.com/pages/3279733.php?picofDayGalleryXRefId=2355&stnBoxId=32458635&curMonth=2008-12-01
Babe of the day Dec. 20th!
http://champrocks.com/pages/3279733.php?picofDayGalleryXRefId=2476&stnBoxId=32458635&curMonth=2008-12-01
Babe of the day Dec. 28th!
http://champrocks.com/pages/3279733.php?picofDayGalleryXRefId=2506&stnBoxId=32458635&curMonth=2008-12-01
****SEE MORE OF MY TOP HATS AT MM#1296936****
Yes these are my very own collection of hats I have made, 15 in all so far and making new designs daily. They are selling much faster than I expected which is cool. Let me know if you are interested and I can show you more