Details
Last Activity:
Jul 07, 2012
Experience:
Very Experienced
Compensation:
Paid Assignments Only
See Less
Friends (2503)
About Me

Hi everyone! Thanks for taking the time to view my work!!!
My name is Monica Renee. I am a professional tattooed print/catalog model (yes they really do exist!) *see resume*
Modeling has been a passion of mine that I have been fortunate enough to turn into a full time job.
Right now I'm really only looking for published work or to collaborate in various unique/edgy/high end shoots. I am also looking to do collaborations with Latex clothing designers and Corset makers. ***I am waist trained and can cinch my waist down to 20''.***
RATES:
I rarely accept any TFP work. But if you feel that you can bring something new to my portfolio, Im open to suggestions. Please remember that this is my career and my full time job so paid jobs and tear sheets will always take priority!
PLEASE NOTE:
*******When inquiring about hiring me, please include all the details of the job:*******
Location
Date
Compensation( I do not shoot for free unless it is for guaranteed tear sheets)
Length of shoot
If there will be a hair and MUA
DESIGNERS:
For certain clothing designers I will consider doing trade work. How this works is: I will get you some gorgeous shots for you to use in your port, website, myspace etc. and in return I keep what you send. I feel that this is fair trade..you get amazing photos for promotion, website etc and I get compensated for my time as well...Win Win! Message me for more details.
TRAVELING:
I am always willing to travel provided that all expenses will be fully paid.
I WILL NOT DO ANYTHING PORNOGRAPHIC!!!! SO DONT EVEN BOTHER ASKING!!!
P.S.
Please do not leave any sleazy comments on my page. I am not looking for a hook up and I have plenty of friends...this site is strictly business. So if you have any other intentions, please keep them to yourself!
**CIAO**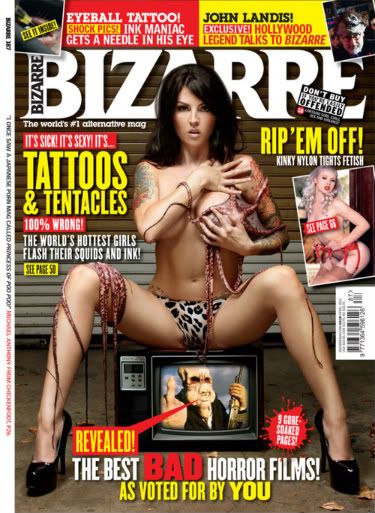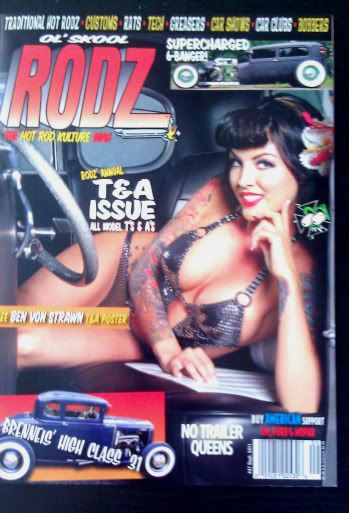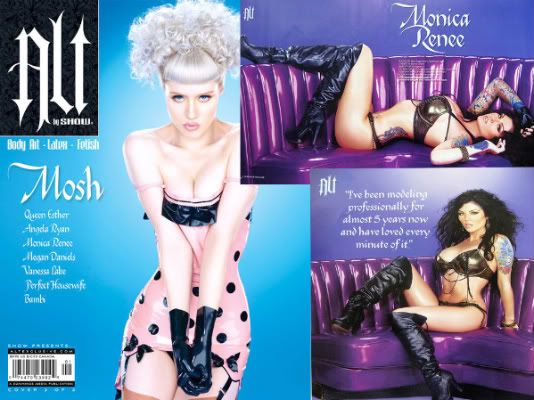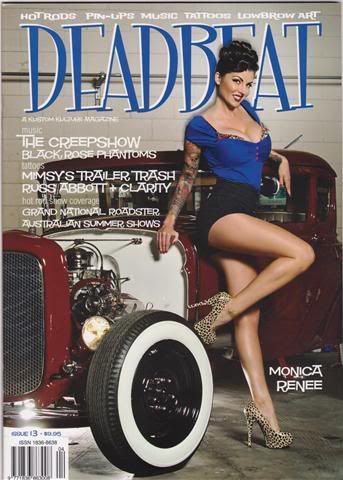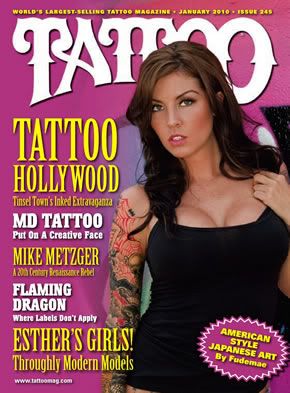 Verified Credits (0)
Worked with Monica-Renee? Share your experience and become verified!
Add Credits
Credit Notes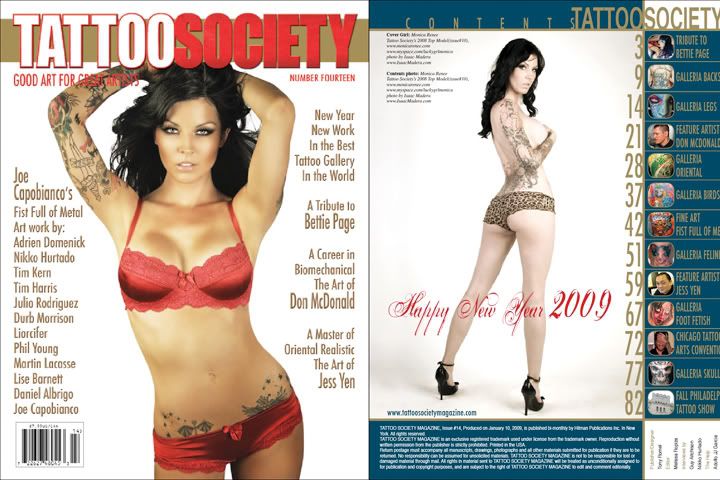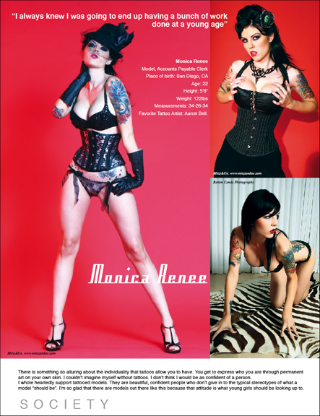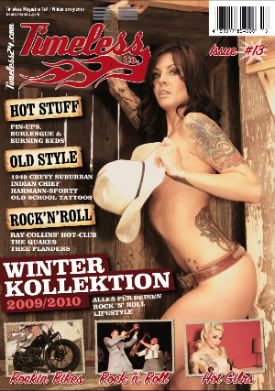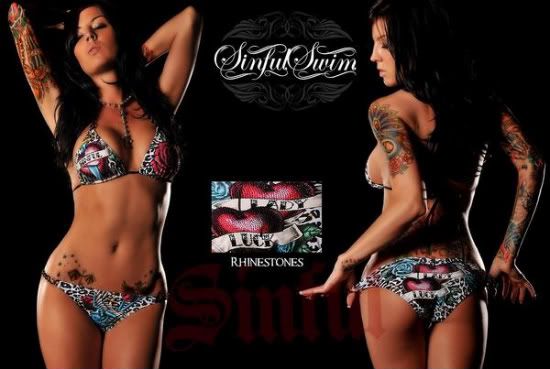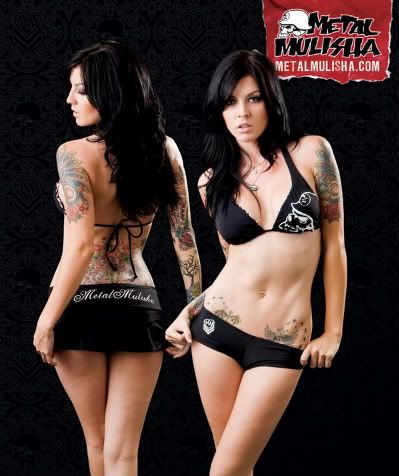 MY 6 PAGE SPREAD IN THE PREMIER ISSUE OF Inked Girls Magazine!
For HARLEY DAVIDSON new line of Apparel H-D INK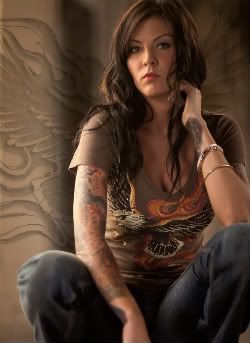 MY METAL MULISHA BANNER! IN NO FEAR STORE WINDOWS NATIONWIDE!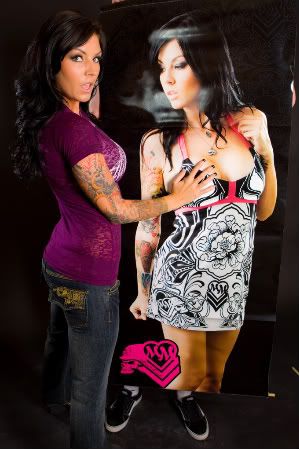 Some of the work I have done:
***Voted Maxim.com's Hottest Girl of Comic-Con 2008!***
Magazines:
COVER Bizarre Magazine UK (March 2012)
COVER Motorcyclist Magazine (2012)
COVER and Feature in Ol Skool Rodz #47
COVER and Centerfold of Skin n Ink ( July 2011)
Feature in Front Magazine UK ( April 2011)
Feature in Glam Rock Magazine (Fall 2010)
Feature in Alt Girls Magazine Premier Issue ( May 2010)
COVER and feature in Hungarian Tattoo Magazine ( April 2010)
COVER and feature in Deadbeat Magazine issue#13(Australia)
FEATURE in Inked Magazines INKED GIRLS Premier Issue (Jan. 2010)
FEATURE in Power Glide Magazine- France (Nov. 2009)
COVER and feature in TATTOO Magazine ( Jan.2010)
COVER and feature in PRICK Magazine (Oct.2009)
COVER and Feature in Super Street Bike Magazine (Sept. 2009)
COVER of Tatowier Magazin (Aug. 2009) Germany
FEATURE in Super Street Bike -parts section ( Aug. 2009)
FEATURE in Cry Havoc Magazine (Aug. 2009)
Alternative Magazine - Featured Pin Up (2009)
COVER of Tattoo Society issue #14 (Jan. 2009)
Car Kulture Deluxe VIVA special (Sept. 2008)
Tattoo Society issue #10 -Featured tattooed pin up (2008)
Bachlor Pad Magazine-featured pin up (Sept. Issue #5)
COVER Timeless Magalog(June 2008) Germany
COVER Tatowier Magazin(July 2008) Germany
Hot Rod Deluxe (July 2008)
Skin&Ink Doll (June 2008)
Scandanavian Tattoo Magazine (Feb. 2008)
COVER of Intl Tattoo Collection Magazine(Feb. 2008)
Ol Skool Rodz Issue #26 (2008)
Tattoo Arte(mention) issue 49(2008)
SPLASH Magazine for Morgana Femme Couture(Dec. 2007)
CHORD Magazine for Coffin Case (Sept.2007)
Punk Rock Confidential for Paper Doll Clothing(2007)
PAIN Magazine(2007)
Rebel Rodz Magazine issue#2 (2007)
Car Kulture Deluxe Magazine (July 2007)
DeadEndMagazine(2007)
Fashion:
Venus Prototype Latex
Liberator Latex
Hostility Clothing
TAPOUT Clothing
Harley Davidson- 2009 INK Catalog- COVER
Affliction/Sinful Clothing
SRH Clothing
Metal Mulisha Clothing
Rockin Bones
Fight Dirty Clothing
Don Dante Clothing
Coffin Case
Lip Service Catalog-Summer 2009
TortureCouture
New York Couture
Timeless Magalog-Germany
Versatile Fashions
Peavey Guitars/Amps Catalog
Dying Breed Designs
Lucky 13 Apparel
Lip Service Catalog-Fall 2008
King Kerosin Clothing- Germany
GirdleBound Lingerie
PinUp Girl Clothing
Zombie Kitten Skirts
Lux De Ville HandBags
Coffin Case Spokesmodel for 2008
Bettie B Dangerous Swimwear
Snitches get Stitches Handbags
Coffin Color Make Up
Morgana Femme Couture
Classic Hardware Jewelry
Paper Doll Productions
Lost Cauze Clothing
Lucky 11 Accessories
Folter Clothing Catalog
Tres Noir Eyewear Ad
HollyWood Tans Spokesmodel print ad
TV and Music Videos:
Good Day LA featured appearance with Trashy Lingerie (2010)
http://www.myfoxla.com/dpp/good_day_la/trashy-lingerie-fashion-show-20100412
G4TV Attack Of The Show Women Of The Web "Sexy Tattooed Girls" Feature - Top 3 spot (Aug. 2009)
http://g4tv.com/videos/40733/Sexy-Inked-Women-Pics/
Harley Davidson-Lifestyle video
http://www.youtube.com/watch?v=GddyL58f8DE&feature=player_embedded
KottonMouth Kings "K-O-T-T-O-N-M-O-U-T-H" music video
Lamb Of God "Redneck" music video
Fashion House tv novella
Watch Over Me tv novella
Veronica Mars tv series
Trade Shows and Fashion Shows/Pageants:
NAMM Trade Show (2011)
Coffin Case/Toxic Vision Fashion Show NAMM (2011)
ISSE Hair Show- Hair/runway Model for SCRUPLES (2010)
Coffin Case Fashion Show NAMM (2010)
NAMM Trade Show (2010)
Trashy Lingerie December 2009 Cyber Girl WINNER
Caged Ink tradeshow for TAPOUT Clothing (Aug.2009)
MFest Car Show (April 2009)
ASR Trade Show for Metal Mulisha (Jan. 2009)
NAMM Trade Show/Fashion Show (2009)
Day Of The Dead Fashion Show (2008)
Comic Con (2008)
Fangoria Fashion Show with Coffin Case (2008)
ASR Trade Show for ...LOST (Jan. 2008)
NAMM Trade Show/Fashion Show (2008)
Coffin Case Halloween Fashion Show( 2007)
MESH Boutique Fashion Show(2007)
First Place in INK&IRON Pin Up Pageant(2007)
Calendars and books:
"Tattooed Girls Rock" Coffee Table book (2009)
Mark Gerardi Pin Up Illistrations 2009 Calendar
Roy Varga's 2009 Nude Calendar
Sick Dogs Tattoo Calendar (2008)
Bombshell n Ink Calendar (2008)
David Perry's Hot Rod PinUp Book (2007)
Some of the amazing photographers I have had the pleasure of working with:
Vendetta Photography
Nick Saglimbeni
Clayton Addison
Greg Truelove
Aaron Riveroll
Stay Crisp Photography
Drew Santos
Michael Bell
Victor Rodriquez
Jesse Destroy, Inc
(ANT) MGA Photo
Isaac Madera #13822
Martha Galvan
Shannon Brooke
666 Photography
Mitzi&Co
Angel with Rottencandy Photography
Todd Huber
Roy Varga
Chris Gomez
Darkman with DarkmansDarkroom
David Perry
Vestige Photography
Manrique Photos
JMV Foto
Ama Lea
Jesus with DeadEndMagazine
Mr.Ska with expressionsinforms.com
Cosmic Frogs Photography
Lucas X with Scarred Heart/ Pin-up Crusade #9662
Kalen Foley Photography#187612
Fantastic Make Up Artists:
Kat Van Derham
Bella Muerta #590558
Alisha L Baijounas#693176
MakeUpbyBeck
Cindy Ha
GlamourKill Studio
Vixen MUA
Christina with ProffesionalPout
Marissa Freeman
Angel Jagger
Miss Rockwell Devil
Lisa Naeyhart
Jennifer Corona
Glory