Details
Last Activity:
Sep 21, 2017
Compensation:
Depends on Assignment
See Less
Friends (393)
Lists (18)
Chicks that rock
8 Photos
Jupiter Spotted!
5 Photos
See Less
About Me
READ MY PROFILE BEFORE YOU SEND ME ANYTHING!!!

NO COMMENT FOR COMMENT!!
Welcome everbody!
I'm a 27 y/o Croatian model/youtube vlogger/actress who lives in Holland.
I've been modelling since I was 15.
I am most into the gothic, fetish and metal scene.
Though I can handle anything!
So even a high fashion shoot is no problem at all!
I do not wish to limit myself. I want to do everything!
Just because most of my pictures are diffrent doesn't mean I can't do anything else like most of you might think...don't judge a book by it's cover...yes even with modelling ;-)
As you can see in my portfolio I am a plus size girl.
I want to show the world that you don't need to be starving yourself out to be a model. Even us big girls can model and look sexy when we want to. You just have to set your mind to it!
For the people who think you stay at a TF*-base as a plus size model: you're wrong, and I am living proof!
I would like to break the rules and open a new path for big girls and for the modelling bizz.
Next to modelling I do a lot of things!
I can honestly say I'm a VERY busy girl.
I am a certified nailstylist (acryl, gel and nailart). You can hire my for those purposes as well. I can make magic on nails ;-)
(When booking me for a shoot, I can make anything you want on my nails and this is a plus because this is all in the price. So you don't have to pay extra to get what you want for my nails. However this is only so when booking me as a model, not when booking me for only make-up or nails!!)
I got my certificate for making clothes. I am working on my own clothing collection for plus size women which is going pretty well I might add.
Next to all these things I am also writing a book and a lot more other stuff I simply cannot list cause it would take forever.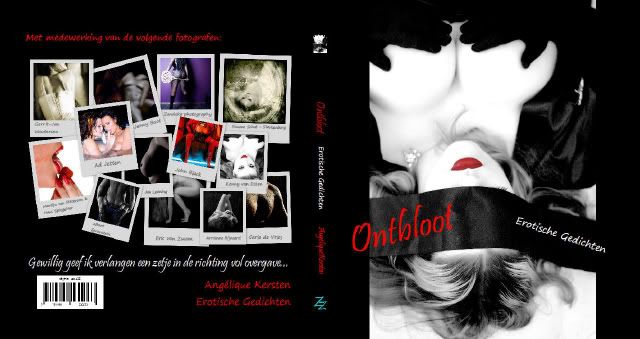 On the cover of the book Ontbloot by Angelique Kersten
On the poster of my fest 2009
On the poster of my fest 2010
On the poster of my fest 2011*Limited TF*...*
I've been working as a model for so long that I've reached a point where I only do TF* shoots if it's for the better of my portfolio. But please don't let that stop you from sending me a message for a shoot! If you have an awesome idea that I have not done yet (and if I really wish to do that), let me know!
Ofcourse you can also send me a message for my rates. I can promise you my rates are not sky high. If money is a really big problem, let me know and we can see what we can do. (I can't promise anything in that case though!)
When you book me for a shoot, I ask payment upfront on my bankaccount or Paypal.
I know this is weird to most people but it is the
ONLY
way I work! In the past there have been too many cancellations for paid projects. I put in a lot of time and effort for that shoot. Not just to be blown off! I book a whole day for you! Cancelling 1 day upfront is a total no go! You let me waste my time when I could have been working with another photographer. If you cancel within 48 hours before the shoot you
don't
get a money refund! I see this as protection. Because when people pay for something, they won't cancel! ;-)
For international shoots:
Payment of travel costs + hotel have to be paid upfront! The other payments can be done during/after the shoot.
If you are a photographer who wants to get paid by me, you can forget it and go on to the next profile! I have never paid a photographer and I will never do so! I understand that a photographer has a lot of work with photoshop and costs of material, but so do models.
WARNING:
I do NOT shoot nudes! So if you wish to shoot with me, that's fine, but keep this in mind please! Also don't bother bringing it up during the shoot. No = NO! If you will keep on pushing during the shoot I'm packing my things and leaving.
I am also available for band bookings. As a metalhead & festival organiser I know a lot of bands. I am a firespitter and I can be hired for that during gigs. (yes even whole tours!) ofc, there has to be room for my materials on the bus (oil). Also next to that I can be hired as a promogirl for the band.
I am not looking for dates! This is not a damn dating site!!
You can ask my skype and/or email but don't ask me to 'turn on my webcam'. And I sure as hell don't want to see your holy parts on webcam either!
I do expect a certain level of professionality. So don't send me messages here with that contant. Funny is one thing but pushing is a no go!
I know a lot of models sleep with photographers but this girl is NOT one of them! I am a highly professional sophisticated smart young woman. By sleeping with photographers you don't get 'far in the business' at all...you just get a bad and easy reputation...
I travel a lot. I'm the most in Holland and Croatia. Though I can be found anywhere.
If you wish to shoot with me let me know up front, because maybe I'll be in your country! (that saves you money!)
If not, I'm willing to travel to another country if all expences are paid for (travel + hotel if needed.
I do not sleep over at your place! As said before I keep things professional...I only sleep at a hotel or B&B
)
When it comes to make-up/styling, I do my own.
I have major experience with make-up as I am a certified MUA with 10 years of exp.! (I started off extremely young with make-up)
Ofcourse this doesn't mean I don't want to work with make-up artists or stylists, in fact I love working with them!
I can be booked as a MUA as well.
And the same thing applies here as it does for nailstyling. When booking me for a shoot you get make-up & nailstyling all in the price!
Just because those things are in the price does not mean the price goes down if you don't want me to do my own make-up/nailstyling. You just get this for free when you book me!
If you wish to see my whole portfolio, please take a look at my facebook.
(website is under construction)
Please don't get me wrong; I DON'T have an attitude! I am just my own person. I'm pretty raw and not afraid of anything! But I am not cocky, selfish, or a B****. I just know what I want. Which sometimes means being direct. And some people may think of it as rude or unfriendly. However this is false!
People usually find it really nice and lots of fun to work with me. I'm a really open person who loves to laugh and have a good time! A bit of a wild child if you will ;-)
So are you ready for me?
I wish you all succes in your work!
Maybe one day we'll meet...
Till then:
-xxx-
Jupiter Darkshadow
Verified Credits (0)
Worked with Jupiter Darkshadow? Share your experience and become verified!
Add Credits
Credit Notes
I will credit all the people I've worked with:
Photographers:
Beauty In Darkness Photography (NL) #579193
Eva Hammer (NL)
Wim Mulder (NL) #201470
Toon de Vos (NL)
Fokke de Boer (NL) #630379
Romeo Kuhn (NL)
djhenkie (NL) #1120132
Sietinga Fotografie (NL) #803340
WolfSilence Photography (HR) #832437
Sanda Madile (HR) #1368082
ALVA Fotografie (NL)
SDV Fotografie (NL)
Wheely Photography (NL) #539234
Pixie Photography (NL)
MSXHinter (NL) #1562195
Huffie (NL)
Wim van Wel (NL) #853549
Martin Janssen (NL) #1034527
Coy (NL)
Peter Ruschen(NL)
Ice Motion (NL) #1460097
JohanD (NL)
Patrick Brouwer (NL) #1683979
Gerrie Bodde (NL) #1264513
Foto André (NL) #385858
Bart Uijterlinde (NL) #2013786
Cloeck Photography (NL)
Imagelabz (NL) #570374
Walther Vlaanderen fotografie (NL)
Ork de Rooij (NL) #1674279
Robert Esseboom (NL)
Pumpkin Photography (NL) #2266464
Peter van Rijsbergen (NL)
Dickde(foto)Graaf (NL)
Mark Perry (UK) #704933
Simon Fairclough (UK)
Kayhan Photography (UK)
Katzen VonSterling (NL)
Lex de Kam (NL)
Hans van Leeuwen (NL)
Johan Stoopendaal (NL)
Holland Fotostudio (NL)
Alex Perez (ES/NL)
U-Model (NL)
Jos Karouw (NL)
Martin Phillipo (NL)
Ruud Ravensbergen (NL)
Karina Brouwer (NL)
Models:
Emina V. (NL)
Ana S. (NL)
Joshua (NL)
Miss Bathory (NL)
Lyanna (D) #1201024
Sanne (NL)
Goddess Of Arrogance (NL)
Lestat (NL)
Darklings Doll (NL) #1001031
Photoshop wizards:
JR Arts (USA) #1076599
MUA:
Lady Dageraad (NL) #789214
Sanda Madile (HR) #2610112
Samantha (NL)
Jopie (NL)
Evelien van der Ham (NL) #1990237
Bianca (NL)
Ashley (UK)
Karin Sirag (NL)
Hair:
Esmee (NL)
Samantha (NL)
Renate (NL)
Sanne (NL)
Evelien van der Ham (NL) #1990237
Kim Blom (NL)
Bianca (NL)
Karin Sirag (NL)
Bodypaint:
DarklingsDoll (NL) #1001031
Tasmara van Loon (NL)
Clothing Company:
Gotics.nl (B)
24 Kingstreet Arnhem (NL)
Realm Of Darkness (NL)
Quierida Lingerie (NL)
Skintight Latex (NL)
Publications:
Holland:
http://www.dreamdresses.nl
Jupiter's Metalfest
Realm of Darkness
R&M Feestartikelen
Book: Ontbloot - Angelique Kersten
Huis van Puck
Metalkrant e-magazine
Movie - High Price
Music Video for Fred Westra
Game Show - Hoofdprijs
Datingshow - Cassanova Bootcamp
Tattoobeurs Arnhem
Cassette Culture - Guestblog
3FM Serious Request Fair
Belgium:
http://www.gotics.nl
Spain:
Halloween poster
Canada
Cultsirens
USA
Metal Queens Monthly #2