Details
Last Activity:
Feb 13, 2014
Compensation:
Depends on Assignment
See Less
Friends (193)
Lists (22)
All-Around Inspiring Photos
33 Photos
Dolls and Whimsical
29 Photos
Gothic and Gorgeous
2 Photos
Hot Hair and Makeup
44 Photos
Jamie's Next Top Models
8 Photos
Once Upon A Time
24 Photos
Only the Best of Hello Kitty
5 Photos
Super Kawaii!!!!
10 Photos
Tattooed and Beautiful
10 Photos
Unexpected/Found Fashions
6 Photos
You Can Stand Under My Umbrella
38 Photos
See Less
About Me
Hello and thanks for showing an interest in my MM portfolio!
-MODELING INFORMATION-
I feel that my portfolio needs more depth, variety, and edge, therefore I am looking to expand my portfolio with various types of ALTERNATIVE STYLES, pinup, retro, gothic, fashion, glamour, artistic, headshots, and makeup shots with local photographers or photographers traveling to my area.
My biggest goal right now is to add ARTISTIC flair and creativity to my portfolio. I have a lot of images in my portfolio that are beautiful, but that do not necessarily represent me and all that I want to portray. I want to do many different themes, concepts, and styles! The crazier, more artistic the theme, the better! So don't be afraid to approach me with different themes and styles that are not currently represented in my portfolio!
-RATES-
I love to meet & work with new, creative industry professionals and am open to any test, TF*, or paid photo opportunities. All reasonable offers will be carefully considered. Please contact me with your creative ideas or offers.
-AVAILABILITY-
I do work full time, so am usually only available on the weekends for shoots. Please feel free to contact me for my general availability, or to see about a specific date.
-PHOTO SHOOT WISH LIST-
I always have tons of ideas for outfits & themes for photo shoots....
Here are just a few of my current obsessions:
*Carousel/Carnival Couture
In an over-the-top elegant dress on a carousel & in a theme park/carnival setting - think popcorn, cotton candy, bright colors, masks, feathers, rhinestones, sequins, etc!
*Bathing Beauty
In a funky bathtub - or something like a vintage claw foot tub, just having fun with the bubbles.
*Rain on my Parade
With an Umbrella, possibly a nice vintage parasol, very whimsical - lots of fun shots to be had there! I have a vision that involves my own yellow umbrella + polka dot rain boots as well.
*Makeup Beauty Shots
Dramatic makeup head shots - looking for MUAs for this as well! looking to do rhinestones, glitter, mask-looking full face makeup, very flashy looks, clown/mime makeup, and anything else the MUA is wanting to try out & experiment with. i am very open to makeup looks, and i am also capable of doing a lot of looks on myself.
*Pinup Styles
very cheesy and typical pinup poses ala vargas! wardrobe, makeup, and hair would be helpful, but can be provided by me as well.
*Fairy Tale
particularly dark fairy tales, or fairy tales & princesses gone wrong.... 1. Sleeping beauty - me lying "dead" w/ pale makeup and bright lips with flowers all around me - very dark and moody. need creative lighting. Also would like to do a sexy couture fashion snow white. i have a dress for this: it's actually more like lingerie- bright blue, silky, lacey, and racey. i would also wear red thigh high stockings with bows at the top, blue heels, a big red bow in very messy teased black hair, lots of bright red lipstick, and some very bold jewelry including a yellow apple necklace. i would want to pose in the forrest, in a very high-fashion style setting. some poses with a very bright shiney red apple, some lying on the forrest floor amongst leaves after having bitten into the "poisoned" apple, etc. (Check out examples in my Once Upon a Time list!)
*Candy-Coated
Sexy candy girl with pink cotton candy & a great big lollipop & various other confections such as bubble gum, ice cream, confetti, balloons, etc. with me wearing white or pink, with lots of lace and ruffles and bows, maybe a ruffled petticoat. hair in pigtails or curly and very bouncy. very innocent but flirty with a fluffy cheesy feel. (just check out my list: Sugar-Coated for inspiration)
*Cosplay, Lolita, Fruits, Decora Fashion
Cosplay, lolita, Japanese fashion style shots ala FRUiTS... (i have lots of funky japanese style clothes, with bright colors, and crazy combinations - this is how i normally dress on a day-to-day basis....) I also have several hand-made anime character costumes from past anime conventions I have attended. (Some great inspiration in my Super Kawaii!!! and Hot Fashion lists)
*Any other innovative and creative fashion, editorial, or glamour themes
*Anything similar to the photos marked in any of my lists, as these are my favorite types of modeling & photography (see below)
If you feel interested in any of these shoots, have ideas to add, or questions about more details of the shoots i want to try, go ahead and contact me and let me know which ones, so we can discuss them in further detail!
-THINGS TO KEEP IN MIND-
-When at a shoot, I treat everyone, including myself, with respect. I believe a successful shoot is one where everyone involved is at ease, comfortable, friendly, upbeat, mature, efficient, and participating in the creative process.
-I reserve the right to bring a personal escort on every photo shoot. This escort will be very professional and will either remain quietly in the background of all sessions, or assist the photographer or model if needed.
-LINKS-
http://picasaweb.google.com/jamiemaevaun
- A full archive of all my past photo shoots, organized in folders by photographer
OneModelPlace: #173733
ModelPlace: #8185
American Cosplay Paradise:
http://www.acparadise.com/acp/display.php?a=37971
Model Interview Feature:
http://www.publicityrocks.org/jamie.htm
Again, thank you so much for your interest in my portfolio!
xoxo - Jamie Mae Vaun
Verified Credits (0)
Worked with Jamie Mae Vaun? Share your experience and become verified!
Add Credits
Credit Notes
I have recently or in the past had the pleasure of working with the following talented individuals who are also on Model Mayhem...
-Photographers-
Greg Mennegar - GM Photography (MM#229973)
Jim Cleveland - Digital Dimensions (MM#366)
Jacob Earl - Earl's Photography (MM#759418)
Christopher James (MM#508354) - Vintage Motocross T-shirts
Robert Coppa (MM#64395) - Missi Lu Spring 2007 Collection
Libbie Mistretta - Sylphide Designs Couture & Vintage Bridal Gowns
Ric Colgan - ByteStudios (MM#149408)
Ric Peterson (MM#158346)
Micheal Andrus (MM#110280)
Jeff Jones (MM#137173)
Fred Dimaano (MM#4971)
Donald Holman (MM#22587)
Brett Stone (MM#123496)
Taylor Maxwell (MM#55401)
Alexander Rubin (MM#61025)
John Gerecht (MM#77688)
Craig Thomson (MM#14190)
Vaughn Tanner (MM#263)
Brad Lashua (MM##15262)
Curtis Reinke (MM#109657) (x2)
Peter - The Jack of All Trades (MM#110919) (x2)
Sheri Lomsdale - Elusive Dreams Photography (MM#45841)
Robert Christopher (MM#15776)
Ernie Chan (MM#15914)
Jack Scott Hill (MM#22220) (x3 - always a pleasure to shoot with!)
Peter Peterson - Peterson Photography (MM #91731)
Randy Smith - Eye2Eye Photo (MM#23697)
Dale Bellman - Natural Accents Photography
-Makeup Artists-
Calvin Tran (MM#192292)
Joy Shack (MM#67645) (x2)
Melissa Derr - Pink Beauty (MM#131417) (x3)
Megan (Not currently on MM)
Gidget Simpson - TEXTURES (MM#139774)
-Hair Stylists-
Kurumi Uchino (MM#312222)
-Wardrobe Stylists-
Bridgette Johnson (
http://www.missilu.com
)
Karie & Beckie (Sylphide Designs)
Melissa Derr - Pink Beauty (MM#131417)
-Models-
Ilsa Spreiter (MM#380600)
Jennifer McKnight (MM#369570)
Sandra Kord
Rhonda Hartsfield
Prisilla Ray (MM#157700)
Ryan Scott (MM#102596)
Miss Pixel-tan (MM#58744)
-ACCOMPLISHMENTS/ENDORSEMENTS/PRINT-
Model in the American Gothique Sick-N-Twisted Fashion show, February 2010

Model for Flying Frog Productions board game A Touch of Evil: The Supernatural Game. Released as a special edition web-content Villain, the Delion Dryad, on Halloween 2008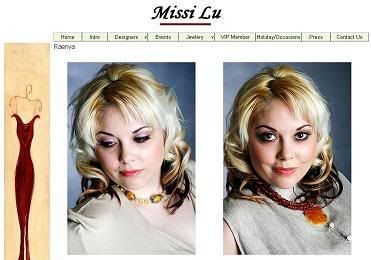 Model for Missi Lu Spring 2007 Collection. My page on the Missi Lu site:
http://www.missilu.com/raenya.html
Model for Sylphide Designs, a couture wedding gown designer duo in Olympia, WA
Cover Girl and Featured Model for the months of June and October in the 2006 Paragon Seattle Calendar composed by photographer Jack Scott Hill
-RECOMMENDATIONS-
"Jamie is great to work with. She is creative, professional, and works the camera very well. I highly recommend her." -
Micheal Andrus, Photographer
"You are a wonderfully talented professional with a great attitude and warm, cheerful dispostion. I look forward to working with you again and again!" -
Melissa Derr, Makeup Artist & Wardrobe Consultant
"I've said it before - and I say it again - You are an excellent model to work with! The diversity and flexibility in you looks, That smile, and a killer personality!" -
Ric Colgan, Photographer