Details
Last Activity:
Aug 24, 2012
Experience:
Very Experienced
Compensation:
Depends on Assignment
See Less
Friends (985)
About Me
Seeking to work with a variety of models and custom bicycles.
I'd like to explore the use of bicycles in today's culture as not only a method of transportation, but as fashion accessories, art, and even objects of lust.
The website will be up in the coming months but for now we're looking for models that would be interested in helping us out on a TFCD and occasionally paid basis as we get on our feet.
Send us a message or tag if you like our stuff and are interested in working with us!
Thanks!
TheFiXFiXFiX
Contact:
[email protected]
To see all our photos check out our website or our Flickr profile!
http://www.thefixfixfix.com
http://www.flickr.com/photos/thefixfixfix/
For real though... Do it.
Ohhh and also if you wanna see some non-bike photos...
http://www.modelmayhem.com/onurarmagan
Look for thefixfixfix at the Sydney Bicycle Film Festival!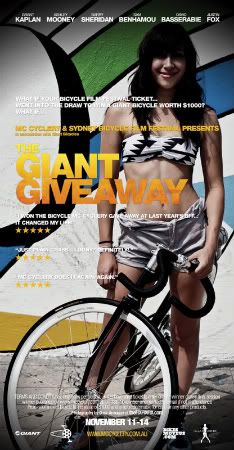 Verified Credits (0)
Worked with theFiXFiXFiX? Share your experience and become verified!
Add Credits
Credit Notes
3/01/09 - Amber Imrie #798194
3/28/09 - Erica Denaye #742651
4/10/09 - Gabrielle Shepard #1027389
4/19/09 - Trisha Graham - #749516
4/29/09 - Haruka Salt - #849369
5/10/09 - Krizzi K - #1198504
6/09/09 - Esme Jackson - #1208215
6/21/09 - Shana B Street - #1239436
7/05/09 - Rocky Lennyn - #1188561
7/11/09 - Chantiq Kolega - #1174479
8/02/09 - Cindy Merck - #533581
8/15/09 - Lulu Sonew - #567461
8/15/09 - Britney JoDell - #1299171
8/23/09 - Cisco Kid - #1018691
8/30/09 - Cirelli - #1197961
9/01/09 - AmandaLeAnn - #1347829
9/04/09 - Blake Brady - #1013239
9/12/09 - Kayla_ - #1040422
9/25/09 - Theadina Von Seyfreid - #1160890
9/26/09 - Mia Uballe - #1368724
9/27/09 - Allison Sieke - #839804
9/27/09 - Hill Jones MUA - #1035706
10/10/09 - Louise McCartney - #1277598
10/28/09 - Miss Moxxy - #1388758
10/30/09 - Victoria Rawlins - #1060080
11/07/09 - Johanna Williams - #1238607
11/08/09 - Jenna Webb - #1369642
11/14/09 - Katie Scott - #797013
11/14/09 - Nicole Isham - #1346100
11/21/09 - Mama_Juice - #1053613
11/21/09 - Brooke Bayley - #1248696
12/06/09 - April Rand - #577062
12/08/09 - Nicola Robinson - #1474930
12/10/09 - Exquisite Apple - #878769
12/20/09 - Valerie Roberts
12/28/09 - Missy Mairenea - #1182440
12/29/09 - Magda Lena - #499733
12/30/09 - Monika Anelle - #2282
01/10/10 - Tracy Marie Briare - #1271
01/17/10 - Megan Cannova - #1517861
01/23/10 - Juliet Glennon - #579055
01/31/10 - Dakota Sugar Rose - #622853
02/02/10 - Elena Basov - #1498383
02/06/10 - Briana Stimmel - #1454866
02/13/10 - Briana Forbes - #1520015
02/15/10 - Nikki Kristine - #881110
02/20/10 - Caitlin Wade - #1400243
02/27/10 - Natasha Rozhdestvensky -#777232
02/28/10 - Amber Nicole - #1514673
02/28/10 - Roxie Shafiei - #1559672
03/06/10 - Natalia Selevanova - #535429
03/13/10 - Velveteen - #1395198
03/19/10 - Ema Kay - #670118
03/20/10 - Joanna Calderon - #1441974
03/28/10 - Meaghan Emory - #1587821
04/04/10 - Samion - #1535001
04/04/10 - Tamara Marie - #1042586
04/11/10 - Rachel Lynch - #1296875
04/13/10 - Hazel LeNoir - #1599767
04/30/10 - Kristen Duffy - #1118391
05/01/10 - Enkhlen Zoriglon - #1632781
05/08/10 - Melinda Nelson - #1339865
05/15/10 - Rachel Hunter - #677858
05/16/10 - Belinda Bryant - #687425
05/20/10 - Alicia Arch - #1614855
05/22/10 - Nazeli - #787951
05/22/10 - Shannon Audrey - #1147393
05/23/10 - Nichole Hopkins - #319798
05/24/10 - Vanessa Doll - #198433
05/29/10 - Kaycee Cheyenne - #1676540
05/30/10 - Monica Miyagi - #829720
06/05/10 - Kaleah - #1633993
06/12/10 - Asli Erdogan - #1656826
06/12/10 - Leia Contois - #1429064
07/17/10 - Julia Egorova - #1696267
07/24/10 - Giza Lagarce - #302094
07/25-10 - Anastasia323 - #1716956
08/24/10 - Kristi Parrales - #1655089
09/12/10 - Mariel Gomsrud - #795649
09/18/10 - Kelly III - #656693
09/26/10 - Ciara Caneega - #152333
10/03/10 - Ania Taubenfligel - #1780894
10/10/10 - Kayla Varley - #1769571
10/10/10 - Gerra - #1418951
10/16/10 - Allison Capone - #1834922
10/17/10 - Hannah Doerksen - #1630437
10/26/10 - Jamie Walsh - #232048
11/07/10 - Boomie - #372462
11/12/10 - Olivia Lopez - #1421209
11/12/10 - Saturday LA - #1891983
11/13/10 - Aleksandra Vasic - #617036
12/04/10 - Radhaa Nilia - #1855791
12/05/10 - Ariel Hauck - #1859026
12/12/10 - Lindsey Love - #479754
12/27/10 - Nicky Massage -#1860098
12/28/10 - I Alexie I - ##1007452
01/08/11 - Lauren Caster - #1317489
01/09/11 - Whitney Day Lankovska - #1629305
01/15/11 - Nadine Crocker - #1886227
01/21/11 - Summer AK - #1820833
Jessica De Soto - #1083398
Lynn Pops - #627920
Brynn Cook - #30804
Molly Spock - #2036416
Zrinka Dozic - #1749811
Amber Boscarino - #1528158
NKash - #1671693
Kris Benton - #720418
Gingerrr - #2179948
Britney Gordon - #1542571
Ashley Krantz - #1059223
BreeLeanne - #2015096
Jenny Boa - #1040560
Alex Stahl - #701189
Nomikan - #2102732
Bethany Marie - #1344550
Erin Marie Hogan - #675731
Bridget Black - #673415
Jaden LaBel - #2260327
Amanda Darling - #1486099
Czarina Venegas - #2214133
Courtney Su - #2097208
Lisa Jupiter - #1834890
Misty Rose - #1484371
Wade Poezyn - #1449075
Zoe Woodward - #1279524
Sarah Cole - #2228070
Sugar - #2117713
Molly M - #815469
Alyssa Kazuko - #1982575
Claudia Moran - #828043
Emily Clibourn - #1752604