Details
Last Activity:
Sep 21, 2016
Compensation:
Depends on Assignment
See Less
Friends (766)
About Me
Please go have a look at
my website
, there's far too few spaces here to put up everything I'd like.
My Facebook page is here
Facebook page
Modelling, for me, is not so much of an aspiration as being able to be part of the creation of something beautiful that will not fade with time, as so much in this life does. Capturing a grain of sand before it falls and the time has passed. It is about making real the imaginary. Living out a 2d existence which would otherwise not exist at all. Only in the stationary, ephemeral moment can you catch a glimpse of the intangible perfection.
My style comprises mainly of traditional gothic, medieval and fantasy and seek to explore the wondrous realms therein. All the photos in the album are self styled (I have a vast wardrobe to draw from) and the are also my own concept.
I also adore alternative fashion and have extensive modelling experience in this area.
I prefer the joint art that is borne out of collaborations rather than be a mannequin for hire. Most of what I do therefore is TFCD (or expenses paid), owing to my decent day job I can afford the luxury of doing this for the love of it rather than the cold satisfaction of remuneration. My fashion work however, is usually on a bartering basis and I'll happily model for you if your wares appeal, I love to be a promotion for wonderfully creative and industrious people who make the alternative genre what it is. Although as my time is rather limited these days I am now looking for collaborations which will pay both parties more than any fee ever could.
Feel free to contact me, I answer all my messages and if I send you a friends request, it's my way of saying I love your work
p.s. Thank you for all the lovely comments and tags, I'm so frightfully busy so I fear I don't get to reply to them all - if you would like to chat - feel free to direct message, I get round to answering those eventually! ... Not enough hours in the day... having a 9-5 career and modelling, sounded like a good idea at the time
Verified Credits (0)
Worked with Lady Amaranth? Share your experience and become verified!
Add Credits
Credit Notes
Selected Covers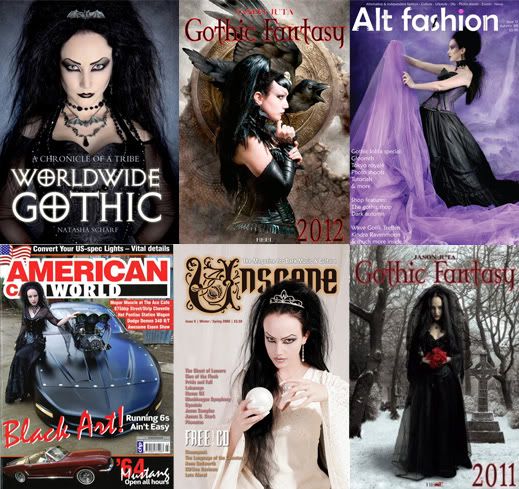 PHOTOGRAPHERS
Taya Uddin
Nadya Lev
Scott Church
Viona Art
Andy Dendy
Stephane Lord
Benjamin Kaufmann
Dean Wilkinson
Goth Indulgence
Of The Night
Circle 23
Darkman
Waken The Dead
...and many more
FASHION
Alchemy Gothic
Illamasqua
Kambriel
Artwith Latex
Attitude Clothing
Drac-in-a-Box
Prong Jewellery
Veil of Visions
Nightshade
The Gothic Shop
Nocternis Jewellery
Brute Force / Fallen Angel Fashions
The Pale Court
Art of Adornment
Vampire Mermaid Jewellery
Dark Elegance Designs
Forever in Black
Queen of Hearts
In Dark Decorum
Gothic Tiaras
Marie LeFay Designs
s-moon-s
Awen Creations
LarysaK Corstry
Dracula Clothing
TuTu Topia
Phaze Clothing
Waisted Couture
Hysteria Machine
... it's getting too many to keep updated
PRINT
Advanced Photographer issue 32
Cover Kultur Magazine South Africa
Cover & poster Devolution issue 32
Gothic Beauty Magazine issue 6, 13
Cover & two months of Jason Juta's Gothic Fantasy Calender 2012
Book Cover & full page image Worldwide Gothic by Natasha Scharf
Dark Beauty issue 6
Alt Fashion Model of the year issue 18
Alt Noir Anniversary issue - 5 page spread
Full page and pull out poster Devolution issue 26
Cover and 3 inside pages of Jason Juta's Gothic Fantasy Calender 2011
Unscene Magazine issue 9 model feature
The Book of Faery Magic by Lucy Cavendish & Serene Conneeley
Bublegum Slut issue - issue 36
Cover American Car World February 2010
Book: Goths by Gavin Baddeley pages 8, 10 & 73
Cover Lipstick Royalty Dec 09
Interview Devolution issue 23
Cover Alt Fashion issue 13
Gothic Magazine June 09
Interview in FAE magazine Feb 09
Orkus Dec 08
Book: Gothic Art Now page 32
Interview in Alt Fashion 9
Interview in Spiders Web issue 9
Alt Fashion issue 4, 5, 11, 13, 15, 18, 19, 20
Cover Alt Fashion issue 3
Unscene issue 5
Cover Unscene issue 6
Bite Me issue 20
Front page Whitby Gazette April 07
Attitude Winter Catalogue 2006
Various adverts, flyers and exhibition material
Alchemy Gothic Catalogue
... it's getting too many to keep updated
RUNWAY/OTHER
World Goth Day Alternative Model of the year 2011
Veil of Visions Fashion show at the Batcave
Phoenix Parade Fashion show at Convergence 2007
Trauma Pet music video