Details
Last Activity:
Jun 30, 2020
Experience:
Very Experienced
Compensation:
Paid Assignments Only
See Less
Friends (6388)
About Me
I DO NOT READ MY EMAILS HERE.. PLEASE EMAIL ME DIRECTLY AT
[email protected]
My solo books published by Korero Books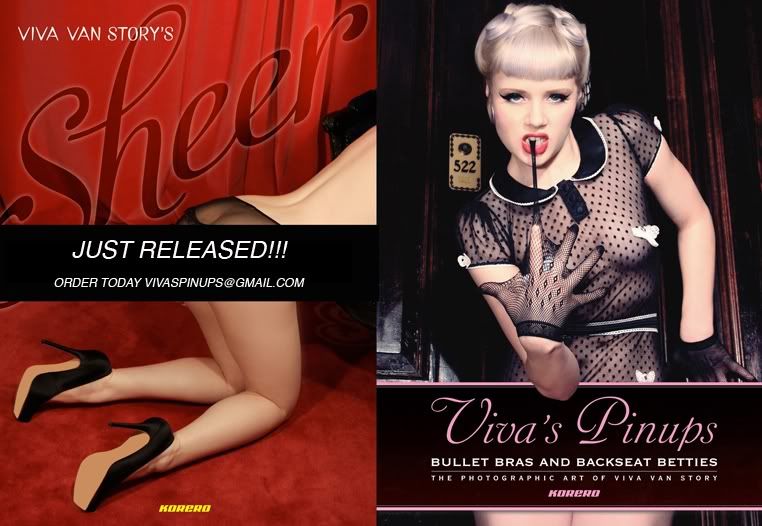 To book me see link >
http://www.vivaspinups.com/newcms/book-me
You can ORDER your signed copy by contacting me at
[email protected]
Books not signed can be found on Amazon and other major book sellers
REVIEWS:
New Jersey artist Viva Van Story is one of the most respected and busiest pin-up photographers in the country. Full of atmosphere and suggestion, her photographs perfectly capture a cool retro-raunch 1940s vibe. Her timeless images range from smoldering seduction to coquettish playfulness, as she depicts women who are sexy, but also empowered, ironic, and complex.
Her work headlined the Detroit Dirty Show, and she and her images have been featured in such publications as Bizarre Magazine, Car Kulture Deluxe, Deadbeat Magazine, DicE, Edge Detroit, Leg Show, New York Post, Ol' Skool Rodz, Real Detroit Weekly, ROCKRGRL, Tattoo, and Varla Magazine. ~ KORERO BOOKS
Pablo Picaso said, €œA good artist borrows and a great artist steals.
Therefore, in my attempt at greatness, there'€™s no one I'€™ve victimized more than Viva Van Story. Viva is truly my most favorite photographer. Her kick-ass attitude, dirty mind, Punk Rock approach to lighting and raw eye all add up to the most jaw-dropping, sexiest photos I'€™ve ever seen. Miss Story has gone light years past the typical "cheesecake" pin-up aesthetic and is fearlessly creating new levels of erotic photography. Viva's work would make Betty Page blush. It has been awesome watching Viva'€™s work evolve over the last 7 years and I cannot wait to see where her art goes from here. However, one thing is for sure, no matter where Viva'€™s creativity takes her, I'€™ll be there to steal from her.
With much love and respect,
~Tyson McAdoo, Artist
Viva Van Story is an accomplished photographer who is being justly acclaimed as a worthy successor to Bunny Yeager. Van Story is taking the parameters of €œcheesecake€ to new levels and the result (to say the least) is haute-cuisine. Pretty damn hot haute-cuisine, actually!
~ROBERT DEL VALLE, The Real Detroit
Viva Van Story's photos are graced by the kind of drag strip dames and juice joint jezebels who populated the men's mags of the 1950s -- with a decidedly modern edge. It's no surprise, then, that with NYC's vibrant burlesque scene, she's the photographer of choice for a wide range of tassel-twirling temptresses, hot-rod honeys, and tommy gun tarts.
~Thomas S. Roche, Eroszine
Paid assignments only. NO TFP-TFCD, thank you.
**********************************************************
Full-time Pin-up photographer available for hire ONLY. Please read my website for my rates under Book Me. I provide models with the entire pinup look for a reasonable fee with two packages to pick from. No prior experience needed to hire me. I am very experienced in vintage hairstyling as seen on my images. I work with some of today's top designers and add new retro pieces to my collection weekly. I have published several of my pinups in Hot Rod Magazines in the USA and Europe including clients who have hired me.
Verified Credits (0)
Worked with Viva Van Story? Share your experience and become verified!
Add Credits
Credit Notes
PUBLICATIONS/CREDITS:
MAGAZINES:
RockRGirl Magazine
Varla Magazine Cover Issue Oct. 06 & (numerous issues/spreads)
Style Monte Carlo Magazine
Dice Magazine (numerous issues)
Pistil Magazine
Traditional Rod and Kulture Magazine (numerous issues)
Car Kulture DeLuxe Magazine (numerous issues)
Ol Skool Rodz Magazine Cover Issue Oct. 06
TV Film magazine, Italy
Exit Magazine Cover and Feature 07
Tattoo Society Magazine (3 images) 07
Kustom Magazine Nov. 07
Mondo Biker Magazine, Spain (every issue)
Leg Show Magazine, Cover and Feature May 08 (ongoing project in every issue)
ELEELA Magazine, Brazil Featured artist (16 page spread/interview) April 08
MARQUIS FETISH MAGAZINE
kinky festival 08
Tattoo magazine
Leg Show Magazine October 08 issue
Edge Detroit COVER AND CENTERFOLD for Dirty Show Detroit feature.
Real Detroit Weekly Feature on Dirty Show
DEADBEAT MAGAZINE (Australia) SIX PAGE Spread of Camility Amelie (Sweden) March 09
NEW YORK POST (late city final) March 29 2009, Headline Article page 7 (Becky)
HOWARD STERN TV April 23rd show. images used of Becky Wunder
BLING (Korea Magazine) May issue EIGHT page Photo spread and interview
ROCKABILLY MAGAZINE Issue 46 Images of Jennifer E.. three pages including centerfold
Dirty Devil 2009 Catalog for Roger Miret's clothing line
LEG SHOW Oct. 09 Jessica Lynn
Artwork for "The Lyndale Tap House" – 2937 Lyndale Ave S. Minneapolis, MN
Artwork for Club Ampersand - New Orleans VIP area
REAL Detroit COVER Oct. 09
Street Rod Milestones image of Jessica Hill
LEG SHOW MAGAZINE Dec. Cover and 6 page spread of Mosh
Elegy Magazine page 77 Image of Mosh
DEADBEAT MAGAZINE (Australia) Image of Jennifer E Dec. 09 issue
SECRET MAGAZINE (Brussels) 6 page spread and back cover Jan. 2010 issue
LEG SHOW MAGAZINE (USA) MARCH ISSUE Masuimi Max
LEG SHOW MAGAZINE (USA) APRIL ISSUE Kitty Kosmo
CYCLE SOURCE (USA) Feb.2010 Issue Angela Ryan
Eloquence Entertainment & Culture Magazine FEB 2010 COVER Vday spread /interview
CYCLE SOURCE (USA) May 2010 Issue Lorraine
LEG SHOW MAGAZINE (USA) Ludella Hahn July issue
LEG SHOW MAGAZINE (USA) Crash and Marlo Sept Issue
CYCLE SOURCE (USA) Adrianne Anderson June issue
ROD & KULTURE (USA) Kitty Kosmo June 2010
MONDO BIKER Jessica Hill June 2010
KUSTOM MAGAZINE (France) Feature on book and spread June 2010
RETRO LOVELY ISSUE 2 Several pages
CYCLE SOURCE (USA) Sept. Jessica LaBranche
CKD (USA) June Angela Ryan
DEADBEAT (Australia) Sept. 2010 Spread of Mosh
KUSTOM MAGAZINE (FRANCE) Sept. 2010 Doris MayDay, Lesha
LEG SHOW (Sept) Amelie
LEG SHOW (Nov.) Lourdes & Jenna
Cycle Source (Dec.) Chesty Von Ellem
LEG SHOW (January) Laura Dore COVER and feature
Retro Lovely (July) Cover Eden Berlin and Feature
LEG SHOW (October 2011) Cover Kitty Kosmo and feature
LEG SHOW (Dec. 2011) Cover Angela Ryan and feature
BOOKS:
SOLO BOOKS:
"Viva's Pinups" (solo book) 2010 KORERO BOOKS London ( SOLD OUT )
"SHEER" (solo book) 2012 KORERO BOOKS London ( NOW AVAILABLE )
--------------------------
GROUP BOOKS:
Good Luck in Hell€ Group Book (SOLD OUT)
Virgin Books out of London, a Cover for a novel €œStella does Hollywood€
"Kustom Kamera" LONDON
"New Nude Photography" POLAND
"Latex Fashion Photography" Goliath Books GERMANY
"Atlas of Contemporary Erotic Photography" GERMANY
"Super Sexplosion [Hardcover]" Goliath Books GERMANY
"Inkarnation" GERMANY 2013
"Snoecks" 2013
"Chocolate Cheesecake" 2015 USA
MUSIC ALBUMS:
Nick 13 Solo Album 2012
Andy Laplegua of CombiChrist - Personal Project Album
GALLERY SHOWS:
CBGB's 313 Gallery NYC 05
Vintage Erotica Art Show in Chicago 06
Harvest Fest in Atlanta, GE 07
Dirty Show, Detroit Feb. 08
Dirty Show, Detroit Feb. 09
http://www.dirtyshow.org/winners.htm
Honorable mentions for image Panty Bondage!
Parlor Gallery, Asbury Park, NJ 09 Group Show
Dirty Show, Detroit Oct. 09
Dirty Show, Hollywood, CA Nov. 09
PHOTO AWARDS:
6th Annual Black and White Spider Awards - Nominee Winner 2011 in Fine Arts Category
7th Annual Black and White Spider Awards - Nominee Winner 2012 in both People & Fashion Categories
6th Annual Photography Masters Cup Nominee 2013 I Color Photography I Nude Category