Details
Last Activity:
Mar 23, 2014
Experience:
Very Experienced
Compensation:
Depends on Assignment
See Less
Friends (1324)
About Me
I'm Draven Star. I'm The Doom Doll and I'm 26.
For a speedier response, please email me directly at
[email protected]
!
I'm not new to modeling, and I really like to do it. I don't flake. This is my job.
I like to talk to photographers before shoots, [by email, phone, whatever works] so that all possible questions are answered and there isn't any confusion about anything. I confirm every shoot 24hrs prior to shooting.
If I'll be driving a long distance, there is a slight chance I may request to bring a female escort with me. Usually, I tend to work alone.
I'm down for anything. Seriously. Just ask.
I'm over inhibitions.
I want to create amazing images.
I am typically booked at least a week in advance. Last minute usually won't work for me, but as always, message me via
[email protected]
My TF is limited, but I consider each offer individually. I'm wicked down to discuss ideas, but, please don't be upset if I offer you my [reasonable! negotiable!] rates.
WILL WORK FOR RAD CLOTHES!
If I have to drive a long distance, travel compensation is appreciated. I'm open to discussion.
I'm very capable of doing my own hair and makeup, as I have in all of my photos [unless credited], but I'm always down to let someone else play with my look.
My hair is currently bright red that ombres to a deep red and falls just past my breasts. My bangs are long and sideswept.
I wear glasses. As of now I have 2 different pairs.
I'm a walking cartoon.
Tattoos--
-AFI 'Decemberunderground' bunnies on left inner wrist
-'BA' with fire and angel wing on right inner wrist
-'The Cure' on right outer forearm
-Winged flaming star on left hipbone
-Koi on right hip
-Very large angel wings on back
-Dove w/olive branch outline on lower right hipbone
-'Zombie Pin-Up' Corset-style lacing on back of thighs
-3/4 sleeve on left arm, Desserts and Weapons theme
-Ninja Star on left wrist
-Portrait of Edward Scissorhands on left hip
-"Pretty Girls // Make Graves" outside of right/left hands.
-Small anchor with '2012' on left hand
-Knuckle tattoos that read 'Doom Doll'
-"Dark Mark" Deatheater symbol on right inner forearm
-Cherry Bomb on right upper thigh
-small Unlucky "13" apple on right collarbone
-"Frankenboh" on outer forearm
-Large crimson clover on left upper thigh
-Paw Print on right thigh
-Snow White half sleeve on right upper arm
[If you have a MUA to cover my tattoos, or if you wish to remove them in photoshop, I don't see a problem with that. Physically, it's impossible for me to cover all of them with makeup. Please don't ask me to.]
Piercings--
-Septum
-Monroe
-1st hole in earlobes stretched to 3/4"
-2nd holes in earlobes, standard sized
-Left/Right tragus
-Belly
-Nipples
-Tongue
Other-
Ive got some small scars.
Curse of an Irish girl!
I bruise easily. It's usually my knees/legs. Feel free to laugh at the awkward of it.
I'm a covergirl!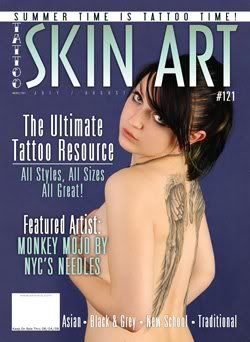 Again!
And Books!
Again!
Looking forward to hearing from you!
(I wish I didn't have to make this statement, but I am engaged. Please respect this.)
Verified Credits (0)
Worked with Draven Star? Share your experience and become verified!
Add Credits
Credit Notes
Photographers:
-Mac Hartshorn
-Ryan Millman, Maryland Models
-James Cochran, Exotic Photography*
-Marty Higareda, Byronic Eye Entertainment
-Eric Herbert, Rising Moon Photography
-Spencer White, Swollen Skateboards*
-Nathaniel, PhotoNTaker, MM#17825*
-Jim Fredlund, MDI Studios, MM#327847*
-Derek Fenwick, NinjaXgirls.com*
-Kyle Marquette Photo, MM#463523*
-Matt Terhune, TwentyOneFifteen, MM#50389*
-Katherine Gaines, AmbientEye, MM#277307
-Sean Abandoned, Abandoned Graphiks, MM#522715
-David Hilton, MM#141887*
-Larry Bradby, MM#1505
-Casablanca Lightwerks, MM#558235*
-Chris Carroll, StudioCMC, MM#300105
-Johnny B Photography, MM#119618
-John Reef Photography, MM#368841
-Jim Phelps Photography, MM#225913*
-Denise, Denise Design*
-Glen, GWR Productions, MM#140814*
-Doug Sakmann, Post-Mortem Pinups, MM#698116*
-Maddie Mel, MM#809849*
-NRichards, MM#309456
-Tim Prendergast, MM#477362
-Second Chance Imaging, MM#576875
-Seth F, MM#215108
-Steve Prue, MM#311*
-KollinBliss, MM#138*
-Pixelism, MM#456512*
-Neil Shoots People, MM#741463
-Daestro Damus*
-Alan, StillsbyAlan.com*
-Metal Disco Photography, MM#802215
-Al in Hell Photography, MM#700538*
-Nate Liquor
-Aiden, Evil Angel/Belladonna Entertainment
-Mojokiss, MM#40972
-Kelly Lind, MM#8887*
-Chris Addams, MM#412357
-Jeremy Saffer, MM#17427*
-J Isobel, MM#168006
-Dastardly Dave, MM#105703*
-Rigger Jay, MM#1292653
-Janice Saucier, MM#1562584*
-Moonstomp Photo, MM#674018
-George Skepton, MM#373385
-TuffNerd, MM#518447
-Images By Ray, MM#22097
-Gabe 1AEON, MM#1522519*
-Worm C, MM#513555
-JL Jospeh Beaulieu, MM#1756351
-Martin Kim, MM#1860813
-PK Brazil, MM#209837
-Funktionhaus, MM#1133801
-RC Images, MM#459512
-Mike Hearse, MM#2649135
-Kilker Photography, MM#1772437


Models:
-Amaya Solace, MM#161666
-Emily Claire, MM#50387
-Beth Caldwell, MM#546249*
-Suspect, MM#369338
-StefanieMarie, MM#426061
-Sara G Marti, MM#355316
-Nybor Beauticorn, MM#161979
-Morgan Mae, MM#234352
-Jay Calvert, MM#565104
-Jessie Lee Angel, MM#375638*
-LittleItaly043, MM#734811
-Mistress Purgatori, MM#2031
-LiiLii, MM#642079
-Sasha Grey
-Regan Reese, MM#379424
-Joanna Angel*
-Bella Vendetta, MM#16593*
-Coco Velvett*
-Misti Dawn*
-Andy San Dimas*
-Belladonna
-Kleio Valentien*
-Rogizoid Shatterz, MM#552888*
-K-Vicious, MM#1227596
-Asphyxia Noir, MM#558864
-Skin Diamond, MM#272301
-Aria Rae, MM#2493121
-Natasha Sriracha, MM#1785640


MUA/Hair:
-Miss Emily Claire, MM# 167832
-London Styling MUA, MM# 408163
-Stella Skellington, MM#566617 [Makeup/hair]
-Nybor Cosmeticorn, MM#415488
-Makeup by Glen*
-Anna DeMeo, MM#379142
-Shear Terror Hair Designs, MM#555155
-Demented DeLuxe, MM#2761012

[* 2+ times]

You can find me on:
BurningAngel
GodsGirls
DeviantNation {RIP}
BombshellBrats
Ninjaxgirls - 'Miko'
AVN
JoannaAngel
EnterBelladonna
POVpunx
C*mOnMyTattoo
PunkPorn
HeavyMetalP*ssyParty
F*ckMeInTheBathroom
AltPorn
PostMortemPinups
Zivity
Fleshbot
DrivenbyBoredom
IThinkThatsHot
Gothic.org, wearing 1AEON

Print:
Skin Art #121, cover
The Village Voice, Burning Angel's 'Pretty In Pink' party coverage
Tattoo Revue cover, centerfold and feature
Burning Angel Magazine, multiple layouts/cover
Xtreme magazine, multiple photos/reviews/interviews
Tattoo Society Magazine
Tattoos For Women Magazine
The Berkshire Eagle, article on tattooed people
Curve Magazine, 'Lust & Latex' wearing Collective Chaos
Monthly ads for Stretch Logic in TATTOO Magazine
Cover, The Dark Side of Disney by Leonard Kinsey
Cover, Our Kingdom of Dust by Leonard Kinsey
No Cure Magazine #3, wearing 1AEON
Tattoos For Women, #110
Beau Nu Magazine, August 2013
Missy Ink Magazine #1
Rebel Ink Magazine with Doyle of the Misfits

Video/Movie/TV:
"Baltica" Trailer, 2004
Swollen Skateboards Bodypaint Fashion Show, 2009, Gutter Magazine
Burning Angel AVN Party Coverage, 2011, G4 TV
2011 AVN Award Show Coverage, Showtime TV
"The Blinds" by David A. Cross, 'Christmas'
"The Cemetary" by Adam Ahlbrandt, 'Babygirl'
Multiple DVDs by Burning Angel Entertainment/Evil Angel
Face of "Dark Side of Disney" 2011-2012
Music Video - "Barfly" by Shane Parker, 2012