Details
Last Activity:
Apr 14, 2010
Compensation:
Depends on Assignment
Hair Length:
Shoulder Length
See Less
Friends (1359)
Lists (2)
My favorite images
3 Photos
Dayna DeLux's list of killer photos
2 Photos
See Less
About Me
I rarely check this site. If you need to reach me please contact me via email.
[email protected]
I am still on hiatus due to the birth of my son but should be back soon!
Welcome,
Thank you for taking a minute to check out my page. I am a retro style pinup model and been featured in many magazines as well as Documentaries. I am always looking to expand my portfolio but my schedule doesn't allow for much TFP lately but I'm always open to great ideas. My rates vary depending on shoots and I prefer to do my own makeup but I am willing to use a MUA if needed.
If you are interested in booking with me you can contact me here or through my website.
Thank you for stopping by... Hope you have a good one!
My myspace link:
http://www.myspace.com/daynadelux
Facebook:
http://www.facebook.com/pages/Dayna-Delux/220457834858?v=feed&story_fbid=367867816784
Twitter:
https://twitter.com/DaynaDelux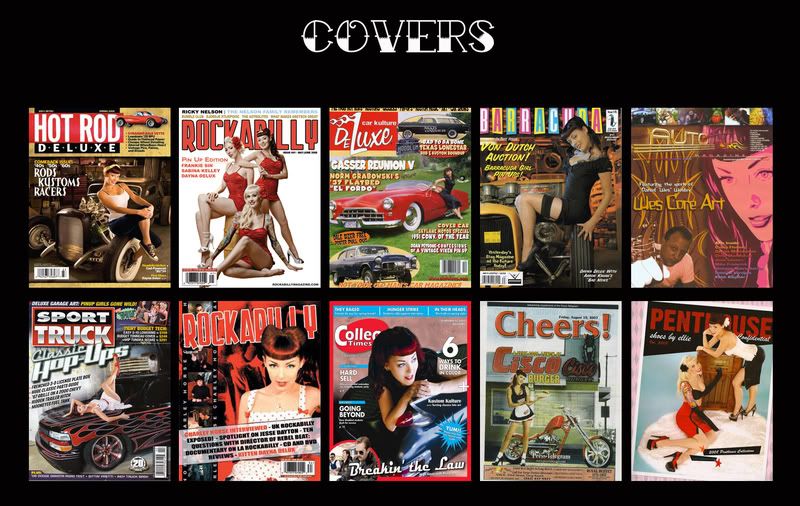 Photographers I've worked with:
Alan Mayes Tn.
Anna Marcos Ca.
Andy Hartmark AZ.
April Charlemagne Tx.
Beth Cocuzzi- Pussycat Pinups Ca.
Brandon Showers Ca.
Cat Fight Studios Tx.
Chad Michael Ward Ca.
Charlie Freeman Tx.
Charlie Gonzales Tx.
Chad Windham Tx.
Craig Rhodes Tx.
CW Photography Ca
Dan Sellers Tx.
Danielle Bedics Ca.
Darkman Ca.
Dave Kramer Tx.
David Hickey Ca.
Duke Morse Tx.
Erik Sivad Tx.
Evelyn Photo Ca.
Flesh Fetish Tx.
Franke Deblaze NJ.
Holly West Ca.
Jason Holmes Ca.
Jill Rasco Tx.
Joe Rohraff Ca.
Johnny Angel Ca.
KETCH Rossi Ca.
Kevin Aguilar Ca.
Kristi Klemens Ca.
Leroy Roper Tx.
Leslie Slenning- Hot rod Dolls Nv.
Matt Blum Tx.
Maggie St. Thomas Ca.
Mehosh Ca.
Mike Davis Tx.
Mike Nightmare Ca.
Mitzi & Co. Ca.
Morrey Taylor Tx.
Octavio Arizala Ca.
Patrick Shipstad Ca.
Paul Baken Ca.
Rachel Stephens Ca.
Renard Garr Ca.
Randy Lorentzen Ca.
Ray Gutierrez Ca.
RK Studios Ca.
Robert Yager Ca.
Sabron Snyder Tx.
Shannon Brooke Ca.
Stacey Potter Tx.
Stephen James May Ca.
Summer Coast Ca.
Tim Sutton Ca.
Timothy Dolph Ga.
Tom Eitner Fl
Varga Ca.
Vestige Photo AZ.
Vivisick Co.
Clients I have modeled for:
After Dark Jewelry
American Racing Wheels
Badland Beads
Bettie Page Clothing
Black Cherry Clothing
Black Market Art Company
Bombshell Inc.
Buttercup Pillows
Candy Apple Jewlery
Coffin Case
Coffin Color Cosmetics
Chopper Dogs.com
Demonia Shoes
Dungaree Dolly's.com
Dying Breed Design
Ellie shoes
Evelyn Black 1955
Freedom Industries
Flat Black Jacks
Flyrite Choppers
FTW Kreations
GirdleBound
Heart breaker
Heidi Fish
KMC wheels
Kustom Klaws
Lip Service
Little Lilly Designs
Lucky Loo Loo
Lost Cause Clothing
Low Brow Art Company
Lucky 13
Monster Garage
My Baby Jo
My Diva Pinup
My Vintage Hut
Old Milwaukee Beer
Penthouse shoes
Pinup Girl Clothing
PNR Graphics
Poison Candy
Puimond Corsets
Skratch's Garage
Spookabella Clothing
Steady Clothing
Stop Staring Clothing
Strychnine Sisters
Texas Tart
Tokyo Moto Girl
Torture Couture
Trophy Queen
Versatile Fashions
West Coast Choppers
Zombie Kitten
54
Published-Magazines/Books:
2009
* Pinurl Magazine- * Cover
* Barracuda Calendar- *Cover
* Varga Calendar- * Cover
2008
* Ace Magazine- September *Cover
* Tiki Magazine-
* Black Market Art Company cataloge- *Cover
* Rebel Rodz- August
* Car Kulture Deluxe- #29 August
* Penthouse Cataloge- *Cover
* Rockabilly Magazine- * Cover
* Traditional Rod and Kulture- centerfold
* ELEGY Ibérica Magazine- Spain
* Rebel Rodz- Feb #4
* Sport Truck- Dec- *Cover
* West Coast Choppers Calendar 2008
* Bizarre
2007
* Rebel Rodz- Dec
* Auto Art Mag- Dec *Cover art
* Now Dig This -UK.
* Hot Rod DeLuxe- Dec *Cover
* Dead Beat- Sep
* Cheer's- Sep *Cover
* Blinky's- Aug
* Car Kulture DeLuxe- Aug
* Rockabilly- July #36
* Bombshell N Ink Calendar- * Cover
* Gothic Beauty- Mar
* Air Brush Magazine- Feb
* College Times Magazine- Feb *Cover
* Rockabilly Magazine- Feb * Cover
* Car Kulture Deluxe- Feb
* Revolver Magazine- Jan
2006
* Big Wheel - Dec
* Car Kulture Deluxe - Nov *Cover
* Gothic Beauty- Nov
* The Horse- Oct
* Car Kulture DeLuxe- Oct
* Old School Rodz- Sept
* Barracuda Magazine Aug *Cover
* FaceFull Magazine- Aug
* Big Wheel Magazine- July
* Car Kulture DeLuxe July
* Lip Service Cataloge- * Cover
* Le Calepin Jaune- June
* Vegas Magazine- June
* Eighty Six Magazine April
* Barracuda Magazine -April
*Modern Vixens by Winky Tiki - Book
*Pinups for troops - Book
2005
* Barracuda Magazine- Dec
* Dice Magazine- July
2004
* Tattoo Magazine
Commercial:
For: Electric Chair- Modeling Lucky 13 and Steady
For: Spike bar in Dallas
For: Converse test commercial
For: Six Flags- Commercial
Film/ Documentaries:
Poison of choice- 10-07
Dark Reel- Feature Film 11/06 extra
Mad Fabricators Productions- Doc. 11/06
Hipster- doc. 06
Ladder of Success- short
Dinner Time- short
Witch girls- short
The tunnel -make up
Cell phone- short
Shows and Events:
Hotrods and Heels show- Judge 09
Viva Las Vegas Rockabilly weekender NV.- Spokes Model 09
Pinup-A-Looza party NV.- Host 09
Babes In Sin Burlesque pageant- Judge- 08
Viva Las Vegas Rockabilly weekender NV.- Spokes Model 08
Pinup-A-Looza party- Host 08
The Invasions Car Show TX.- Spokes Model 08
Coffin Case Namm fashion show 1-08
Coffin Case Halloween Fashion show- 10-07
Summer Shutdown Car show AZ.- Host 9-07
Voodoo Rumble Car show Lake Tahoe.- Spokes Model 8-07
Hotrod Ho-Down CO.- Spokes Model 7-07
Pinup Girl Fashion Show @ 40 Deuce 5-07
Rockabilly showdown Ca.- Signing for Evelyn Black 07
Coffin Case Fashion show- Fangoria 5-07
Arizona Kulturama- Spokes Model- 5-07
Coffin Case Fashion Show at NAMM 1-07
Christmas Burlesque 12-06
Coffin Case Halloween Fashion Show 10-06
Coffin Case Fashion show 8-06
Guys and Dolls Fashion show 8-06
Holiday Burlesque Ca. 12-05
Gloria Figueroa fashions Fashion show 04
Crimson Empress Fashion show 03
Exquisite Restraint Fashion show 03
Maxx Studios Fashion show 01
Bugle Boy Fashion show 97
Music Video:
Three Bad Jacks- Crazy in the head 07
Artwork of me
Cd covers such as.. Tribute to Marylin Manson, Ozzy tribute, Isolation, Nocturne, Dynamite! Tavo and the Flat Black Thrillers, Pent up- Boxed In etc..
Comic books- Empty zone #2 and #3
DVD-Wicked Intentions, Lowlife Video
Fliers/ads for Bands, club promotions, gallery shows, car shows, Blind Date show, Jerry Springer show,
Tattoos, End Tables, Books, Calendars, Skateboards, Wine Bottles, Guitars etc.
Verified Credits (0)
Worked with Dayna DeLux? Share your experience and become verified!
Add Credits