Details
Last Activity:
Jun 03, 2014
Experience:
Very Experienced
Compensation:
Depends on Assignment
See Less
Friends (1673)
Lists (1)
My View on beauty
21 Photos
See Less
About Me
Check out My sites:
http://www.twitter.com/amandagift
http://www.facebook.com/amandagiftmodel
http://www.myspace.com/agiftfouru
I am a Model and Photographer.... You shoot me, I shoot you... check out my photography Snaps Photography on here too... (Located in my top Friends!!!)
http://www.modelmayhem.com/brinegar
Hello,
My name is Amanda Gift, I have been modeling for over 9 Years now.
I am Currently available for paid assignments only!
I am very professional, and easy to work with.
I do not do NUDES-or IMPLIED'S
Please don't ask!~
If you inquiry to hire, Please send details to
[email protected]
I am available for these types of Jobs:
Commercial
Television
Hosting
Calendar
Bikini
Catalog
Glamour
Fitness
Fashion
Lifestyle
Music Videos
Model Coordinating
Wardrobe styling
Photography Assiting
Music Videos
Anything else.... Just ask!!!!
Only serious inquries please!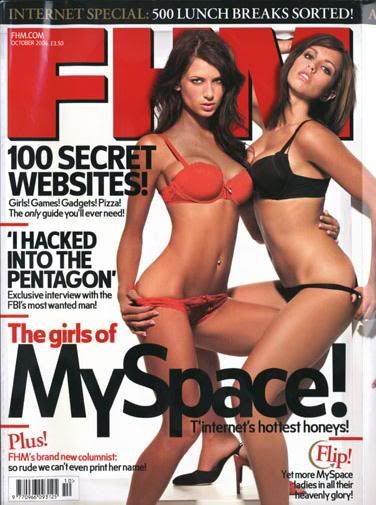 [I
Verified Credits (0)
Worked with Amanda Gift? Share your experience and become verified!
Add Credits
Credit Notes
Resume:
Print:
Splash Magazine 2003
Splash Magazine print ad 2004
Smokin Hot Magazine Feature 2005
Modified Magazine Nopi Event coverage May 2005
Modified Magazine Nopi Event Coverage June 2005
Modified Magazine Nopi Event Coverage July 2005
Modified Magazine Nopi Ad Model Sept. 2005
Performance Auto and Sound STS event coverage Nov 2005
Cyclemania Ad Model 2005
FHM Magazine 20 hot Dates March 2006
Super Tuner Show Ad Model 2005
Modified Magazine Nopi Nationals flyer Sept 2006
Modified Magazine Nopi Event Coverage Sept 2006
FHM Magazine front cover of UK edition October 2006
Modified Magazine Nopi Event Coverage Oct 2006
Street Trenz Magazine Nopi Event Coverage Oct 2006
DSport Magazine Nopi Event Coverage Oct 2006
Front cover Modified Magazine HIN tour guide May 2007
Superstreet Magazine HIN tour guide May 2007
Superstreet Magazine HIN Ad June 2007
Stuff Magazine HIN Ad August 2007
HIN Flyers for following tour shows:
HIN Chicago
HIN DC
HIN Boston
HIN Philly
HIN Dallas
HIN Orlando
HIN Charlotte
HIN Nightshift Chicago
DC Pro Modeling Flyers for numerous Hosting/fashion shows (DC,NYC,VEGAS)
Front cover Thunder Roads Magazine Va bch Va 2007
Smokin Hot Magazine Cover model 2007
HINHawaii win a contest flyer 2007
DSPORT Magazine front cover May 2008
Superstreet Magazine layout June 2008
SUPERSTREET Magazine FRONT COVER JUNE 2008
RoyalPurple Synthetic Oil Advertisement 2008
Sum poosie Energy drink special edition catina bottle 2008
NETOXIC BROCHURE MODEL 2008
POPSI LINGERIE CATALOG MODEL JULY 2008
FHM MEXICO DECEMBER 2007 ISSUE
DESTROYED BRAND JEAN MODEL JUNE 2008
Rhinestone Productions Spokesmodel August 2008
FHM Holiday Lingerie Model for FHM feature December 2008
Ultimate Grappling Magazine Print Model Feature December
Chynnadolls.com catalog model Jan 2009
Hot Import Nights 2009 Season Tour Guide
SuperStreet Magazine Two Page Pictoral 2009
Maxim Magazine 2 Page Ad spread May 2009
HIN FLIERS FOR THE FOLLOWING CITIES:
NC,PA,CA, IL, PA, FL, NJ, NH, and more
Fight Sport Magazine FRANCE ISSUE December 2009 2 Page Spread
Slix Mens Underwear Campaign Model 2009-2010
944 Magazine Ad Campaign for Felicious Play Lingerie Jan 2010
Calendars:
Adventure Calendar 2004-2005 Ms.May/Ms.December
CycleMania 2005 Calendar girl
Adventure Calendar 2006
Nopi Chic Calendar Ms. April 2006
Nopi Chic Calendar Ms. May 2007
Nopi Chic Calendar Ms. Nov 2007
FHM Hottest woman of 2006 calendar Miss May 2007
Satay Bistro Calendar Ms. Jan 2010
Mickeys Malt Liqour Calendar Model 2010-2011
Cooler master Calendar Model 2010
Never Light Again Yearly Calendar Model 2010
Video/T.V:
Speed Channel Nopi Coverage MD 2005
Speed Channel Nopi Coverage VA 2005
Speed Channel Nopi Coverage NJ 2005
Super Tuner Show segment on Street Vision Garage 2005
Street Vision Garage television Spokesmodel 2005-2006
Street Vision Garage Commercial
Street Fury HIN DC Coverage June 2006
Octane T.V. Model Segment March 2007
HIN TV Hosting Segment for HIN DC coverage May 2007
HIN TV Host/Spokesmodel for selective HIN events 2007 Tour
HIN TV Hosting Segment for HIN LA coverage 2007
MaximSatellite radio on the morning show March 2008
Liven The Low Life Speed channel TV show HIN Boston Segment June 2008
Rice boy tv Naughty Nurse Video and demo on how to give CPR June 2008
CMT TELEVISION SHOW "COUNTRY FRIED HOME VIDEOS" SEGMENT ON GUN SAFTEY... AIRS THE SUMMER OF 2008 DATE IT TBA
LUFTHANSA AND AMERICAN EXPRESS COMMERCIAL SKIT FOR AIRLINE PLAYED JAMES BONDS FIANCE' JULY 2008
Nisei Week Show Off Event Coverage Host for Rice Boy TV August 2008 Most Interesting Assistant on MOJO High Def Television Airs October 2008
SPIKE TV " Idiot Hall of Fame" Show Model for Opening Segment for Every episode Airs December 2008
Mania TV Midnight Rida Car Model EPISODE 2 July 2008
TAN Thin Infomercial Fall 2008
Danny Bonaduce's Show " Rescue Me" August 2008
Mania TV Midnight Rida Car Model EPISODE 1 July 2008
San Diego Morning News For ASR live coverage Jan 2009
Event Coverage and interviews for The Follow the Nissan Z Tour November 2008-Jan 2009
The Doctors TV show Played the role of a sushi Model march 2009
Entourage HBO hit TV show 2009
HIN GOGO Contest Host New Jersey May 2009
Apple IPHONE Dance Application May 2009
Hot Import Nights Interview North California on Speed Channel 2009
Rental Hawk Host for Website 2009
Ron Artest Music Video Georgetown Girl 2009
ubroadcast VJ Host for website 2009-2010
Cooler Master CMHD.TV Official Site Host 2010 Year
Get Your slix on commercial 2010
Island of Fantasy MOVIE Short will be showing Summer 2010
Good Day LA Morning show Valentines Day Segment Feb 2010
Rock For Files Featured Extra March 2010
Entourage Featured Extra (played Makeup Artist for a movie set )Feb 2010
Entourage Featured Extra (Played Party Girl) March 2010
Entourage Featured Extra (Played Actress) April 2010
Sunrise Ford Commercial May 2010
Maxim.com Video Gadget Host 2010-2011
Rotocade Video Host 2010-2011
Events/Fashion Shows/Hostings:
Import Velocity Spokes Model 2004-2006
Super Tuner Show Model on Tour2005-2006
Nopi Chic Feature Model On Tour 2005
Nopi Chic Feature Model on Tour 2006
Hot Import Nights M lounge Feature Model 2005
Hot Import Nights Tour Model 2006
The Girls of FHM Promotion Las Vegas @ Pure Oct 2006 DC ProModeling
The Girls of FHM Promotion Las Vegas @ Tangarine Oct 2006 DC Pro Modeling
Hosting @ Club 1223 for FHM Cover Model Nov 2006 DC Pro Modeling
MIR Featured model for ELD Performance Nov 2006
Valentine Lingerie Fashion Show - Washington, DC 02/17/07
Hustler Lingerie Show - Washington, DC 02/03/07
Covermodel Hosting at club Envy Richmond, VA March 2007
Electric Costume Fashion Show at 1223 April 2007
Hustler Lingerie Fashion show at 1223 April 2007
Hustler Lingerie Fashion Show at Club HOME New York City April 2007
Hustler Lingerie Fashion Show at Club Metropluex June 2007
Bikini Fashion Show at Club Metropluex July 2007
Model Central Fashion Show stage exposure
HIN San Mateo March 2007
HIN Nightshift Pamona March 2007
HIN Chicago March 2007
HIN Nightshift Tampa April 2007
HIN DC April 2007
HIN Boston April 2007
HIN Philly May 2007
HIN Nightshift San Diego June 2007
HIN Dallas June 2007
HIN Orlando July 2007
HIN Charlotte July 2007
Polina Fashion Show Host Model Central HIN Charlotte July 2007
HIN Nightshift New York July 2007
HIN Chicago 2007
HIN Hawaii 2007
HIN Miami 2007
HIN seattle 2007
HIN Minneapolis 2007
HIN Tour Model 2007
HIN celebrity guest judge for Miss HIN competition 2007
HIN Vegas 2007
Sema HIN spokesmodel 2007
Ed Hardy Fashion show VEGAS club studio 54 Fashion show
FHM cover Model hosting CLUB Play DC Nov 2007
HIN San Fransisco 2007
HIN afterparty Seattle Hosting event 2007
NOS naughty nos girl host HIN Chicago and Miami
HINSan Mateo 2008
HIN BOSTON 2008
HIN BOSTON CAPRISTAN CLOTHING LINE FASHION SHOW 2008
SUM POOSIE CATINA BOTTLE SPECIAL EDITION ENERGY DRINK 2008
NIKE Shoe Promotional Party in Beverly Hills May 2008
COURVOISIER PROMOTIONAL MODEL AT CLUB DREAM JULY 2008
SPOCOM 2008 WORKED AS SPOKESMODEL FOR SKUNK2.COM JUNE 2008
Rice Boy TV Model for Nisei Week Show Off August 2008
HIN Model Central Model August 2008
HIN Miss HIN Pomona Contest Host, August 2008
SEMA Car show Anzo Booth Model November 2008
Follow the Nissan 370z Spokes Model 2008
Lost International Spokesmodel for ASR Jan 2009
Sports Illustrated Swim suit Edition Party Feb 2009
Hot Import Nights Anaheim Feature Tour Model March 2009
Hot Import Nights San Mateo Feature Tour Model March 2009
Miss Hot Import Nights Contest Host March 2009
Hot Import Nights Austin Texas Feature Tour Model April 2009
Hot Import Nights Tampa Feature Tour Model April 2009
Hot Import Nights New Hampshire Tour Model May 2009
Hot Import Nights New Jersey Tour Model May 2009
HIN PA (featured tour model) June 2009
HIN CHICAGO(featured tour model ) July 2009
HIN NORTH CA (featured tour model) July 2009
Hot Import Nights GOGO Competition Host for North California Show July 2009
Disney Land covention for ABC television 2009
UFC Tapout Spokes Model 2009
Solar Convention Silicon Solar Spokes Model 2009
Nissan Leaf Tour Product Spokes Person Nov-Dec 2009
Mickey's Malt Liqour 2 Year Campaign Spokes Model 2010-2011
Cooler Master Spokes Model For 2010
cooler master Miss Jan Product Model 2010
Tapout Spokesmodel Jan 2010
Never Light again Spokes Person Jan 2010
Remix Tour Spokes Model 2010 Season
Contests:
MD~Nopi Chic Swimsuit 4th Place 2005
VA~Nopi Chic Swimsuit 2nd Place 2005
NJ~Nopi Chic Swimsuit 3Rd Place 2005
Super Tuner Show Swimsuit ~ 1st Place July 2005
Super Tuner Show Swimsuit ~ 1st Place Nov. 2005
Hawaiian Tropic Swimsuit 2nd Runner up in Ms Virginia finals 2005
Miss Peabody's contest Semi Finalist 1st place Dec. 2005
Miss Peabody's contest Finalist 2nd place Dec. 2005
Miss Peabody's contest Semi Finalist 1st place Jan. 2005
Miss Peabody's contest Finalist 2nd place Jan. 2005
Miss Peabody's contest Semi Finalist 1st place Feb. 2005
Savvy Is She Hot Contest Ms Jan. 2006
Hottest Mom In Hampton Roads for Max FM radio 2005 (Mothers day contest)
Miss HIN Washington DC April 2006
Chevy's Hawaiian Tropic 2nd Place winner May 2006
MD~Nopi Chic Swimsuit 5th Place 2006
Miss Peabody's contest Semi Finalist 1st Place June 2006
MIR Naughty School Contest 1st place Nov 2006
Miss Hotimportnights 2007
Semi Finalist for July Miss Cobra 2007
Semi Finalist for June Miss Cobra Seats 2008